128th birth anniversary of Prof Ranganathan celebrated
More than 150 participants including the students of the department participated in the webinar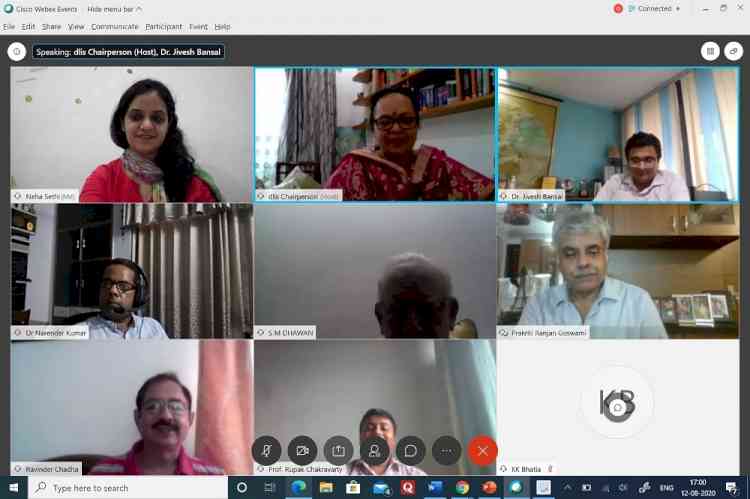 Chandigarh: On the occasion of 128th Birth anniversary of Professor S. R. Ranganathan, National Professor and father of Library Science in India, the department of Library and Information Science and A.C. Joshi Library, Panjab University, Chandigarh in collaboration with Ranganathan Research Circle(RRC), New Delhi organised a webinar on the theme 'Future of Librarianship in Digital Driven Era' through cisco webex app.

In the webinar, Prof.Ronki Ram ,Dean, Faculty of Arts, Panjab University was the Chief Guest and Dr. S. M. Dhawan ,former head, National Physical Laboratory library, New Delhi, Dr. R.K. Chadha,Former Additional Secretary, Parliament Library, New Delhi and Dr.Narinder Kumar,Librarian, University of Delhi, Delhi were the resource persons.

Dr.Jivesh Bansal, Librarian welcomed all the guests. Prof. Preeti Mahajan ,Chairperson of the department introduced the theme of the webinar and Dr. P.R. Goswami ,Former Director,National Social Science Documentation Centre ( NASSDOC), and Convener of RRC elaborated the history and activities of Ranganathan Research Circle. In his presidential remarks, Prof Ronki Ram congratulated the organisers and praised the works of Dr Ranganathan especially the five laws which are apt in the present scenario. He furthermore highlighted the importance and need of a library and applauded the efforts of providing the right information to the right person at the right time.

Dr.Dhawan highlighted the library services and products which help in resource discovery as well as library management using softwares which in turn assist in managing the resources in context with digital interface along with the need, importance and impact of Library Consortia.

Dr.R. K. Chadha said that we have moved from the digital era to the disruptive era which has impacted the whole system. He said under the knowledge economy, libraries need to change the landscape by closing demand of the current generation by providing skilful people with critical thinking and interdisciplinary approach. Dr Narendra Kumar elaborated the relevance of Libraries and highlighted that his works are relevant even today. He discussed the impact of increase in journals' prices and other factors compared to educational situations resulting in a dilemma for libraries constantly.

More than 150 participants including the students of the department participated in the webinar. Professor Rupak Chakravarty presented a formal vote of thanks.