113-kg man operated successfully for knees replacement
63-years-old patient from Patiala was suffering from osteoarthritis in both knees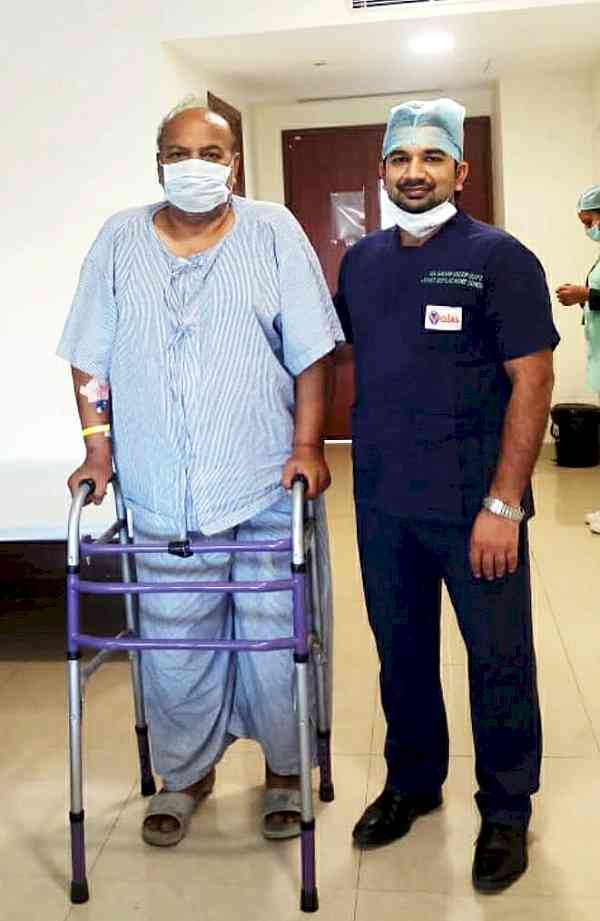 Panchkula: A man weighing 113-kg has successfully operated upon for stitch-less & painless knee replacement surgery at Ojas Super Specialty Hospital, Panchkula recently.  
 
63-years-old patient from Patiala was suffering from osteoarthritis in both knees thus restricting him to walk and perform routine duties. This has resulted in increase in his weight besides other health hiccups including BP, diabetes, and heart problems.  
 
Dr. Gagandeep Gupta-Consultant Orthopaedics & Joint Replacement who has performed over 200 knee surgeries with stitch-less & painless technique since its launch at Ojas last year said that this new technique has become very popular. The surgery though this technique requires no stitches on skin and its almost painless, he informed.
 
Dr Gupta further said that patients with overweight are generally advised to reduce weight and then come for surgery. However, weight cannot be reduced when a patient who is hardly able to walk due to severe knee pain, he pointed out.  
 
But after knee replacement surgery, it can definitely be reduced as the patient starts walking and jogging. So weight can be reduced only when patient burns calories, said Dr Gupta.
 
The surgery in this era of Covid-19 is more challenging as we need to follow all ICMR guidelines besides wearing PPE kits, N95 mask and Covid test of the patient before underdoing surgery, he pointed out.