108 Ambulance  organizes First Responder Program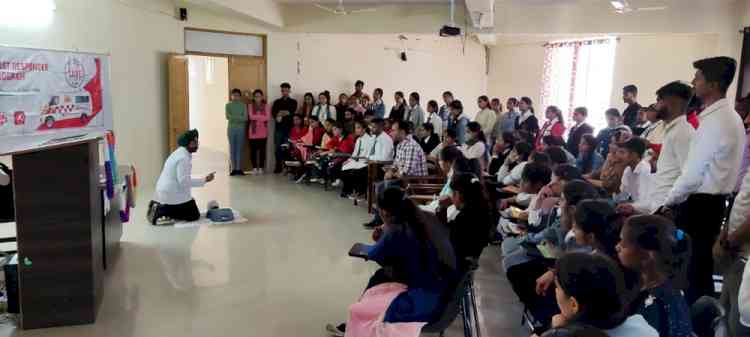 Hoshiarpur, November 10,  2021: Leading Healthcare Service provider and responsible for handling emergency Accidental cases in Punjab, 108 Ambulance services today organized a First Responder Program  for the college students at ,Modern Group of College, Mukerian, Hoshiarpur .  This type of  program was specially organized to make students  aware about  effective first aid training & it's importance whenever an emergency occurs, be it at  home , workplace or any public area . The program was organised in the presence of Deepak Kumar, Head Marketing, 108 Ambulance services, Professor Sonali Saini, Allied Health Department and Students from the institution.
The  COVID -19 outbreak taught us countless life lessons along with reinforcing the well-known phrase "Health is Wealth". Keeping this saying in view Ziqitza scheduled the training where FRP Trainer Mr. Jaswinder Singh explained, how First Aid in emergency situations like CPR, Heart Attack, Bleeding, Fracture, Snake Bite, Fainting, Choking, and Hypoglycemia, etc is given to the patients . A demo was also shown  to the students to give a clear understanding on how emergency cases are well taken care of.
Divulging details about the Program , Mr Saikat Mukherjee , Project Head, 108 Ambulance services said, Our main aim of organizing this event  was to enlighten the  students about Importance of  First Aid. i.e  how it helps minimize the  seriousness of the injury,  if provided timely to patients.  Students often  lack professional knowledge towards  first-aid , it's importance, how to apply it  and we hope through this program , they become an helping hand to someone in need. This  Program will definitely  help in increasing social awareness among students. "
 According to my ideology it becomes an inner sense of happiness when an individual observes his help becoming life saving for another.
 "We keep on organizing Such Programs for the betterment of  Society,  "added Mukherjee