108 Ambulance organises First Responder Program at Jalandhar
108 Ambulance organises First Responder Program at School of Nursing SBLS, Civil Hospital, Jalandhar.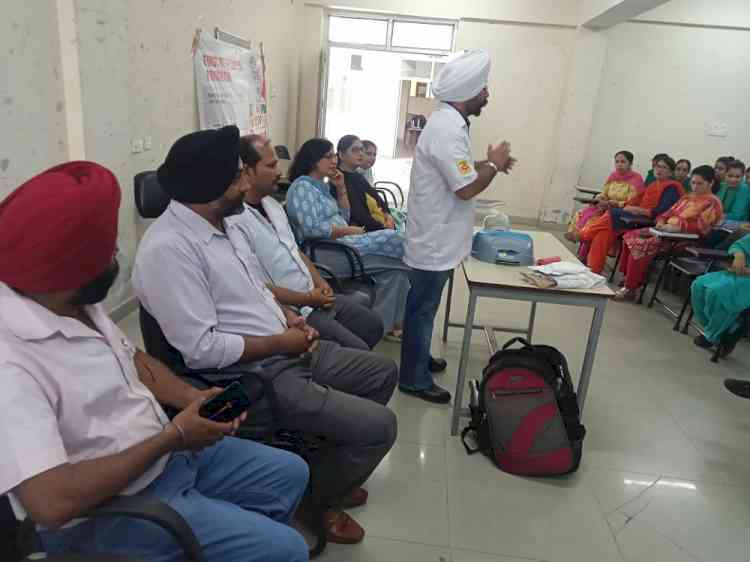 Jalandhar, 22 June 2022   : Leading Healthcare Service provider and responsible for handling emergency Accidental cases in Punjab, 108 Ambulance services  organised  First Responder Program for the students of SBLS Institute of Nursing Civil Hospital , Jalandhar.
 
This type of program was specially organised to make students aware about effective first aid training & its importance whenever an emergency occurs, be it at home, workplace or any public area. The program was organised in the presence of FRP Trainer Jaswinder Singh and Cluster Manager Kamaldeep Singh.
The COVID -19 outbreak taught us countless life lessons along with reinforcing the well-known phrase "Health is Wealth". Keeping this saying in view Ziqitza scheduled the training where FRP Trainer Jaswinder Singh gave a clear explanation  on how First Aid in emergency situations like CPR, Heart Attack, Bleeding, Fracture, Snake Bite, Fainting, Choking, and Hypoglycemia, etc must be given to the patients . A demo was also shown to the students to give a clear understanding on how emergency cases are well taken care of.  More than 60 nursing students attended the program.
Divulging details about the Program, Saikat Mukherjee, Project Head 108 Ambulance said, "Our main aim of organizing this event was to enlighten the students about Importance of First Aid. i.e  how it helps minimize the  seriousness of the injury,  if provided timely to patients. This program will definitely  help in increasing social awareness among  students. In today's time everyone must be aware of First Aid as it always plays an important role and we hope that our program comes as a helping hand." 
"According to my ideology it becomes an inner sense of happiness when an individual observes his help becoming life saving for another. We keep on organising such programs for the betterment of society", added Mukherjee.
DMC Dr. Jyoti Sharma also attended this program and appreciated 108 Staff for organising such an informative session for the students.