100 frontline staff get Covid vaccination at Alchemist
Alchemist made all preparations for vaccination with the dedicated cabins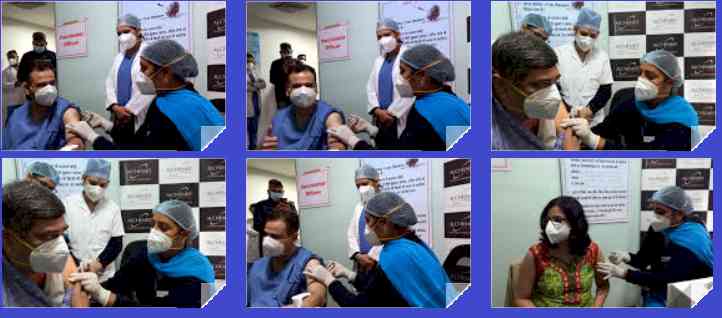 Panchkula: As many as 79 front line staff including 34 doctors, 48 nurses and 18 paramedical staff of technicians, physiotherapists and sample collection staff of Alchemist were administered Covid-19 vaccine at Alchemist Hospital's vaccination centre during the first day of vaccination drive on Saturday.
Dr Achint Narang in-charge of critical care was the first to get a vaccine. He was followed by Dr Suneet Kumar Verma from  internal medicine, Dr. Vikas Bhadu , Dr. Vishal Sharma, Dr. Tarun Soni , Dr. Anchal Mahajan, Dr. Geetanjali Kalra, Dr. Harmadeep Kaur, Dr Amardeep Singh , Dr. Neha Rajoria and Dr. Indu Yadav.
Along with government hospitals, Alchemist is the only private hospital which is deployed as a vaccination centre in Panchkula district.
Sharing his experience about vaccination,  Dr Achint Narang said that we can't defeat Covid if we keep on fearing vaccines. We can only win the virus by vaccinating yourself.
"I went for a vaccine with a thought in mind to defeat Covid by getting vaccinated. We need to vaccinate more and more people so that Covid surge could be checked. After taking the vaccine, I am feeling completely fit and fine with no sign of fever, nausea, headache etc. In fact I resumed my work after half an hour of administering the vaccine," maintained Dr Achint.  
Dr. Suneet Kumar Verma said that the day has finally come for which we were waiting long. It's a mixed feeling of excitement and satisfaction that we finally have reached the stage of vaccination.
Manisha shared that it is good that we have put the gloomy and confusing times behind and looking ahead to overcome the virus.
Piyush said that there was no fear or apprehension about vaccine side effects. In fact we were waiting impatiently for this day. While fighting the odds post pandemic outbreak one thing we were pretty much sure that sooner or later we would get vaccination to combat the virus. Thus we continued our fight against the virus with full dedication.
Meanwhile, Alchemist made all preparations for vaccination with the dedicated cabins, first aid area and separate entry and exit of vaccination volunteers.