Zonal Task Force North Zone workshop held in hybrid mode in DMCH 
A workshop on TB elimination program was conducted in Dayanand Medical College & Hospital, Ludhiana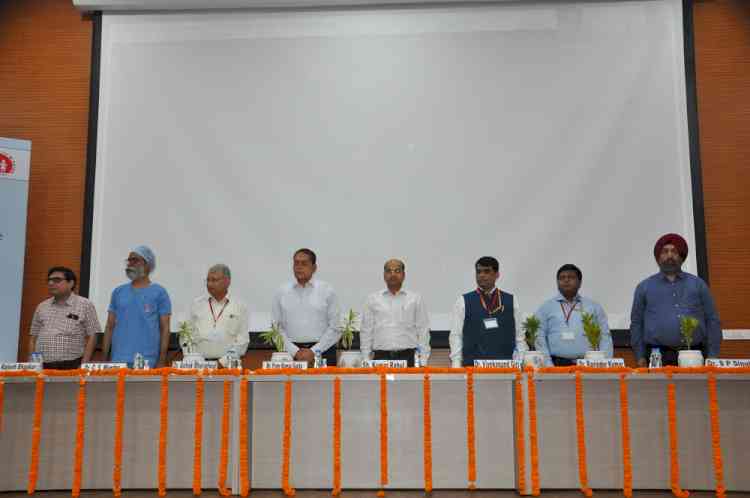 Ludhiana, April 6, 2022: A workshop on TB elimination program was conducted in Dayanand Medical College & Hospital, Ludhiana on 5th April. This workshop was organized by the Department of Community Medicine in collaboration with State Task Force (NTEP), State TB Cell Punjab and Central TB Division, Ministry of Health and Family Welfare, Govt. of India.
The main objective of this workshop was to review the program performance of medical colleges from Northern states of India and was attended by more than 60 delegates. The major emphasis was to strengthen the diagnosis, treatment and notification of TB patients and to implement newer policies such as latent TB management. Also, measures to improve coordination of public sector and Medical Colleges in managing TB patients was discussed.
The workshop was inaugurated by Kumar Rahul, MD- National Health Mission, Govt of Punjab. Prem Kumar Gupta, Secretary DMCH Managing Society congratulated Community Medicine for organizing this workshop. He further said that DMCH is actively involved in National TB Elimination Program working with Govt. of Punjab & Govt. of India.
Dr Ashok Bhardwaj, NTF Chairperson, Dr RP Joshi, DDG-TB, Dr Vivekanand Giri, Joint Director, Dr Ravinder Kumar, TB Specialist, Govt. of India, Dr S P Singh, Civil Surgeon, Ludhiana, Dr Rajesh Bhaskar, STO Punjab, Dr Rohit Sarin, Technical Advisor NTEP, State TB officers and STF chairpersons from nine northern states and UTs were present at the occasion. Faculty members from various medical colleges attended this workshop in online mode.
Dr G S Wander, Vice Principal, DMCH said that these workshops are integral part of the journey of spreading awareness, curing and eliminating  this disease. He said DMCH is honoured to host this workshop.
Chief Guest, Kumar Rahul, said, Our goal to Eliminate TB by 2025 has many challenges as issue of case finding is very critical in this aspect". He pointed out that people usually hide the fact that they have TB because there is social stigma attached to it which creates challenges to combat the disease.
The organizing secretary of the workshop, Dr Sarit Sharma, STF NTEP chairperson of Punjab and Professor, Department of Community Medicine, DMCH said that this workshop is being held after 3 years in a physical mode and all the delegates were very excited for attending the workshop. Dr Sarit Sharma was also appointed as Chairperson of ZTF operational research committee for north zone of India during the meeting.