Zee Punjabi's show "Haaseyan Da Halla" premieres at No 1 Slot in Punjab
Created as a family entertainment show, the key words that define Haaseyan Da Halla are Lively, Chirpy, Spontaneous, Fun, Inimitable and Quirky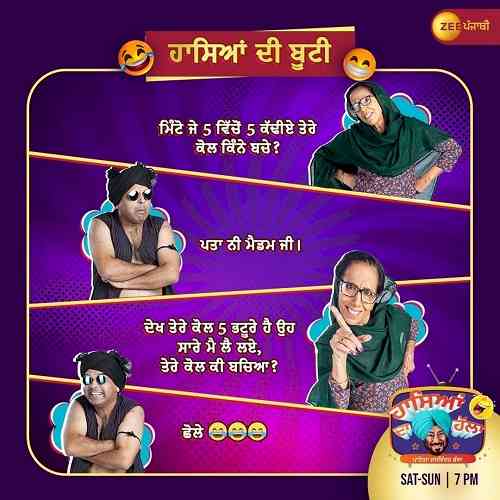 Chandigarh: Zee Punjabi's new comedy non-fiction series Haaseyan Da Halla premiered on Zee Punjabi on October 24 and recorded the highest ratings across all channels and shows in the market.

Amit Shah, Cluster Head North, West & Premium Channels, ZEEL said, ""We are thrilled with the show's performance and would like to thank all the viewers of Punjab for their delightful response. We are equally honored that the show could provide laugh and joy to the audience during these stressful months. To emerge as the market's No.1 show on launch is a validation of the passion and rigor of our teams, host and artists, and Zee Punjabi's utmost trust and confidence in our abilities and expertise. The show's success confirms our mission to create impactful shows and homegrown formats that strengthen our client's leadership."

Speaking on the new show launch, Rahul Rao, Business Head, Zee Punjabi said "Our understanding of changing audience preferences during the lockdown showed that consumers are turning towards slice of life content, light hearted comedies and shows & movies that reflect a spirit of hope and positivity. Hasseyan Da Halla is the perfect mood lifter for viewers and we are extremely happy it became number 1 in its launch week"

Created as a family entertainment show, the key words that define Haaseyan Da Halla are Lively, Chirpy, Spontaneous, Fun, Inimitable and Quirky. Airing on Saturday and Sunday, the weekend family show also features the finest range of artists including Mintu, Lucky, Nisha Bano, Gurpreet Bhangu and a spectacle of celebrity guests.