YU Hotel brings its international restaurants Noaa and Spice Mantraa to India
YU Hotel's Noaa and Spice Mantraa have now expanded its reach to Goa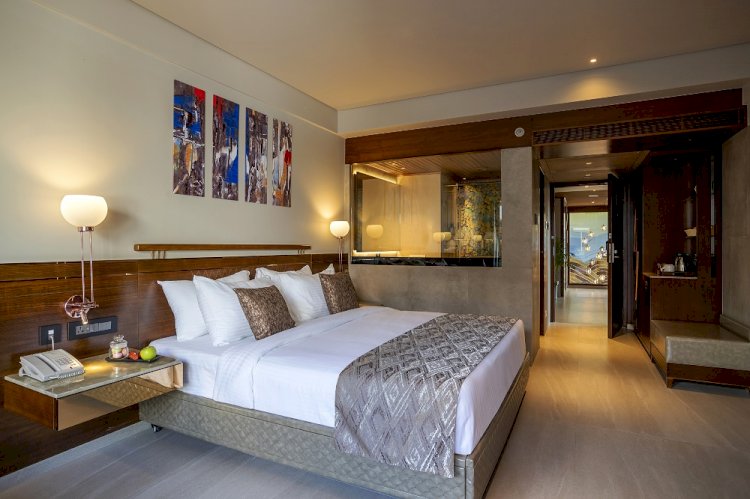 Rooms at YU Hotel.
Chandigarh: Locatedon the bustling street of Candolim just a short distance from the famed beaches of Goa, YU Hotel is the latest entrant to the coastal holiday state.
The 32 room hotel designed in warm hues draws inspiration from elements which are unique to the seaside location. YU Hotel offers just the right mix of comfort, luxury and excitement synonymous with Goa. 
Located in the tourist hub of the state, YU Hotel is an ideal boutique hotel for travellers with a taste for style and elegance. Guests can indulge themselves with fine cuisine and a relaxing experience at the wellness centre which includes jacuzzi baths, gym and therapies at the spa.
YU hotel threw open its doors with the launch of two of its signature international restaurants Noaa and Spice Mantraa in India. Having carved a niche for itself with its diverse culinary offeringsin Bali, Noaa and Spice Mantraa have now expanded its reach to Goa.
International Chef Richard, Celebrity Chef Shailendra Kekade and Chef Sanjay Kotianhave specially curated the menu for the two international restaurants keeping in mind the need of today's discerning travellers.
Noaa offers a predominantly Pan-Asian menu which includes locally inspired culinary offerings. It is designed to be a social, creative space and offers an eclectic experience in the state's tourist hub. The all-day dining restaurant promises to satiate one's cravings with an extensive spread of tasty, contemporary cuisine from parts of Asia and Europe using the finest of ingredients. Fresh local produce features in the well-curated menu which includes distinct Asian flavours.
The menu features an array of diverse mouth-watering recipes including an exotic Carbon Chicken, delectable Prawn cocktail with Rechadoand chive dressing,Asparagus Roll in a Cafreal sauce and Scotched Quail Eggs. Lovers of sushi can opt for a selection of offerings including the Californoaa Roll. For light bites, the restaurant features a selection of Goan inspired dumplings including the Prawn Rechado dumplings and Chicken Vindalho Gyoza.
Guests can also enjoy authentic woodfired pizzas and burgerswith a Goan twist such as a Goan Chorizo pizza, Prawn Balchao Ravioli or a Barbequed Chicken Poee Burger.Favourites from the restaurant in Bali – Charmoulah Style Grilled Chicken and Seared Salmon feature on the menu.
The thoughtfully created beverage list features interesting cocktails, coolers and sundowners. The bar section of the menu includes Tangerine Crush, Ginger Mule, Girol Spritz and a wide selection of other infused concoctions.
The second of its culinary destinations – Spice Mantraa – is inspired by the timeless allure of Indian and Goan cuisine. Meals here immerses you in a rich experience of traditional flavours, spices and cooking methods which tell the story of India's culinary journey through the years.
Traditional Goan cuisine features prominently on the menu which includes local favourites such as Assado De Porco, Croquettes, Seafood and spicy kokum infused Pork Amsol among others.
Speaking on the occasion, Mr. K S Ramkrishnan, the Chairman of Star Alliance Resorts said, "We are delighted and thrilled to announce the launch of YU Hotel which brings something new and exciting to the area. The hotel is conceptualized with the aim of providing a warm and welcoming space for guests.The two international restaurantsNoaa and Spice Mantraa  bring a diverse menu to satiate one's food buds. We have international Chef Richard,Celebrity Chef Shailendra Kekadeand Chef Sanjay Kotianon board who have specially curated the menu keeping in mind the travellers need."
Chef Richard adds, "The Yu Hotel is aimed at offering our guests a flavour of diverse traditions which evokes a feeling of homecoming. The menu at the Noaa and Spice Mantraa consists of uniquely created dishes and drinks that embrace the local flavours."