Youth parliament dedicated to Shaheed Bhagat Singh held at DAVIET Campus
Objective was to impart social and political awareness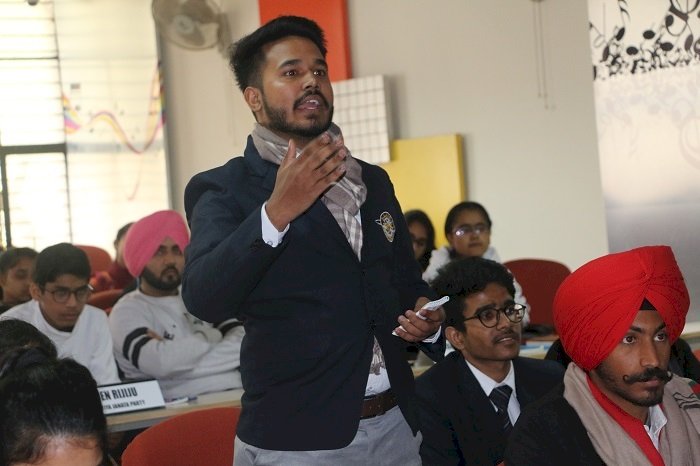 Jalandhar: DAV Institute of Engineering and Technology' along with 'Initiators of Change organization' organised a two day youth parliament dedicated to Shaheed Bhagat Singh at DAVIET Campus, Jalandhar. The objective was to impart social and political awareness amongst the youth of the city through discussions and debates.
 
The conference received a fervent participation of around 150 students hailing from various cities throughout the state. The two days event replicated the Lok Sabha and Indian press holding discussions on the issues related to the youth of the country and human rights.
 
Dr. Manoj Kumar, Principal DAVIET, quoted in his speech that Shaheed Bhagat Singh Ji was a part of the Dav Organization and thus was inspired by the Vedic learnings of the Arya samaj. This motivated him to sacrifice his life for the nation. Further he also encouraged the youth to come forward and take the responsibility for their actions, so that no political party can mislead them for its political motives. At last, he motivated the students to come together and fearlessly present their opinion regarding their human rights.
 
Talking about the event, Gauravdeep Singh, founder-Initiators of Change organization stated that the youth raising voices without adequate knowledge and just blind follow of the influential powers of the society. The intention of this conference was to make the youth socially and politically aware and able them to think rationally and debate upon the core issues of the country. We hope that more young leaders are created who focus on imparting knowledge to give the youth and the country a positive direction.
 
The extensive sessions in the Lok Sabha wrangled over the hot political topics of CAA and NRC accompanying an assiduous response from the youngsters where Gurpeet Singh(Mr. Manmohan Singh) made a clean sweep by bagging the best delegate followed by Khushi Arora (Rahul Gandhi) with high commendation and Munish Kumar (A. Owaisi) and Harsh Sharma (Amit Shah) snapped the special mention.
In the devout Indian Press, Shafali kohli and Moyukh Roy Dutta took the honour of the best journalist followed by Uday Thakur emerged preeminent caricatures, whereas in photography Vipul Dhand and Sangat Singh turned out the nonpareils.
 
The event when smoothly under the able leadership of Dr. Megha Munjal Sharma(A.P.) and Ms. Amrit Kaur(A.P.) along with Mr. Sandeep Sharma(L.T.), Mr. Mani Bansal(A.P), Ms.Diksha Bansal (A.P.) and Mr. Varun Mahajan(A.P.).
 
The prodigious Executive Board of the conference shared an undivided thought about the event stating praises for the mammoth response from the city and anticipating more contests like these in the country.