Young women more prone to risk of heart disease, say experts
While menopause is a known risk factor for heart disease, today young women are increasingly seeing heart problems, said health experts on Friday, on the occasion of World Heart Day.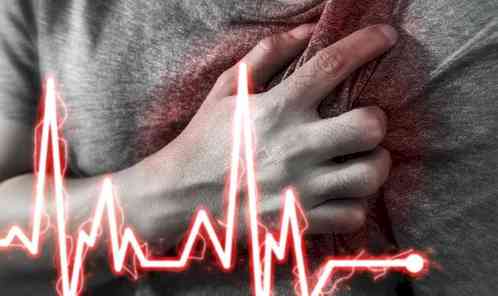 Source: IANS


New Delhi, Sep 28 (IANS) While menopause is a known risk factor for heart disease, today young women are increasingly seeing heart problems, said health experts on Friday, on the occasion of World Heart Day.
World Heart Day is annually observed on September 29 to raise awareness of diseases related to the heart, and also to work on solutions to mitigate it. 
In India, heart disease is responsible for approximately 25 per cent of all deaths, and women account for a significant portion of these deaths. 
According to the Global Burden of Disease Study, heart disease is the leading cause of death among women in India, accounting for almost 18 per cent of all female deaths. 
Shockingly, the mortality rate due to heart disease among Indian women is higher than that of breast cancer and other cancers combined. 
"Historically, heart disease has been more commonly associated with men, but it is a leading cause of death in both men and women. Some factors make women vulnerable. Certain risk factors, like high oestrogen levels, play a role in exposing women to cardiovascular diseases," Pradeep Kumar Nayak, Director, Cardiology at Dharamshila Narayana Superspeciality Hospital Delhi, told IANS. 
"It is a fact that compared to men, women neglect their heart health and delay screening or checkups. Women sometimes have different symptoms. Unfortunately, heart disease in women has been underdiagnosed in the past and this trend continues," Nayak told IANS. 
This was seen in a recent analysis of 15 studies from 50 countries, including India, which showed that women suffer worse outcomes when diagnosed with and treated for cardiac issues. 
The analysis, published in the peer-reviewed journal "Arteriosclerosis, Thrombosis, and Vascular Biology", showed that when women experience heart issues, they may suffer more than the typical chest pain. 
In another study of nearly 15,000 patients with coronary artery disease, among younger patients, women were associated with a six-fold increased risk of dying within 30 days. 
Researchers at the University of Maryland School of Medicine said the rates of heart attack increasing in younger women are "alarming". 
They pointed out risk factors that are unique to women which include premature menopause, endometriosis and hypertension disorders during pregnancy. 
"While we previously believed women were protected from heart disease before menopause, this is no longer the case. Young females are developing multiple risk factors, including hypertension, diabetes, and thyroid disease,"added Saritha Sekhar, Adult Cardiologist, Amrita Hospital, Kochi. 
"These factors, combined with the obesity epidemic and sedentary lifestyles, contribute to heart disease in younger individuals. Although the disease's nature is similar in both genders, the evolving landscape underscores the growing vulnerability of young females to heart disease and early heart attacks," she noted. 
In recent years, India has witnessed a huge surge in the prevalence of heart diseases, making it a major public health concern. 
Dr. Ambuj Roy, Professor of Cardiology, AIIMS New Delhi, said in India, an estimated 50-60 million people suffer from coronary artery disease and about 3 million heart attacks are reported each year. 
"These heart attacks are generally caused due to various factors like improper diet, physical inactivity, smoking, obesity (especially central obesity which is very common in Indians), hypertension, diabetes, bad cholesterol, alcohol consumption and a family history of premature CAD. 
"It is absolutely vital to keep track of certain indicators that speak to one's heart health: blood pressure, blood glucose/sugar, cholesterol level, body-mass index (BMI) and waist circumference," he said. 
The doctors suggested maintaining a healthy lifestyle by following a balanced diet, managing stress, and getting adequate sleep.