Young members of CICU visit to Mahindra Swaraj Tractor at Mohali
Team comprised of 30 members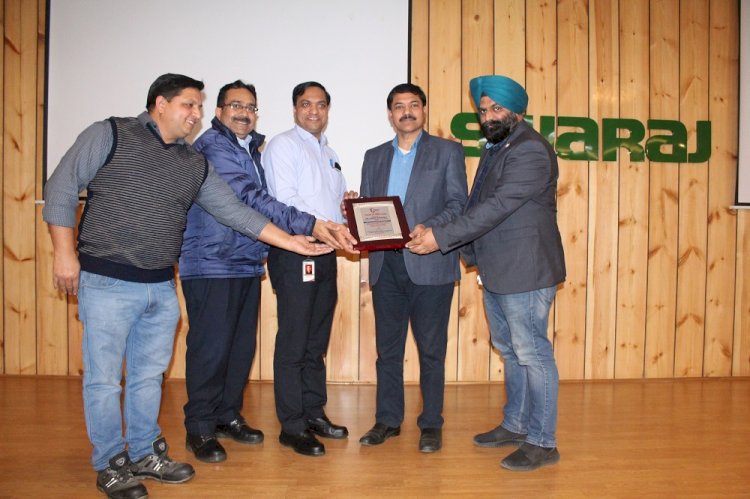 Ludhiana: Mr Pankaj Sharma, General Secretary, Chamber of Industrial and Commercial Undertakings (CICU) led a team of 30 members of Young Business Leaders (YBLF) which comprises of young members of CICU for a visit to Mahindra Swaraj Tractor at Mohali.
Upkar Singh Ahuja, President, CICU said that the main objective to visit this plant to upgrade the young entrepreneur with new ideas, strategies, new innovation and adopt new systems in their units, so they can survive in this competitive era.  
Sandip Bhangle, Plant head of Mahindra Swaraj Tractor introduced the history of Mahindra Swaraj by showing a video and said that Mahindra Swaraj is known for Manufacturing World Class Products with World Class Manufacturing Facilities.
Rajeev Gupta, Safety Officer at Mahindra Swaraj and  Sanjay Yadav, Maintenance Head of Mahindra Swaraj Tractors also gave their presentations and showed their techniques.  It was explained how they have implemented cloud based data procedure, which is helping company to better capture, store and manage vast amounts of data. With cloud-based data management, companies have instant access to information, flexibility in storage solutions and easier avenues to manipulate.
Pankaj Sharma, General Secretary, CICU gave a brief presentation on working of CICU. He thanked the Mahindra Swaraj Tractor for arranging this visit. CICU arranges such visits to upgrade its members and make them aware of the latest manufacturing facilities. He said such visits are always an eye opener for the Ludhiana Industry which lacks exposure to World class manufacturing techniques being adopted now a days.
Those who visited the Plant included, Didarjit Singh Lotey, Rishabh Gupta, Vineet Dhiman, Varinder Singh, Rajesh Gupta, Gurminder Singh, Harinder Singh, Sukhjot Singh, Siddarth Mittal, Rohit Gupta, Mukul Gupta, Umesh Jain, Rajeev Gupta, Sunpreet Singh, Harpreet Singh, Harmail Singh, Balwinder Singh, Sarabjit Singh, Gaurav Kumar, Akashdeep Bassi, Tarun Chadha, Pankaj Sharma, Arvind Bagga, Harpreet Singh, Anhad Singh, Simran Singh, Jasmeet Singh and Vivek Mahajan.