Young filmmakers make short film `Pinds of Punjab'
Depict caste-based discrimination and drug abuse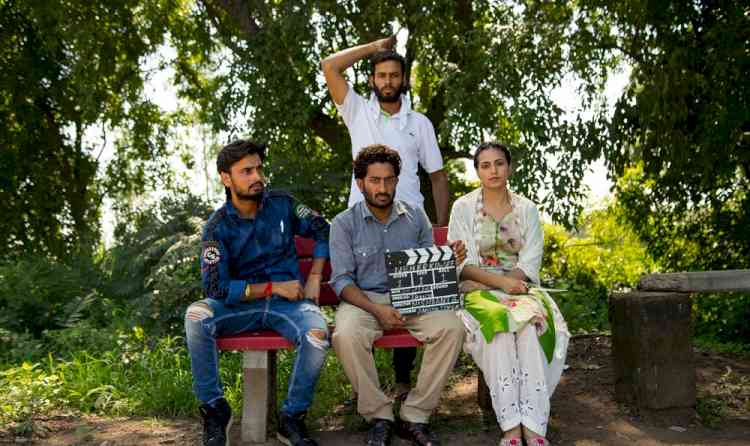 (L-R) Gagan Gill, Shivam, Jasnoor Deol and Hashneen Chauhan.
Chandigarh:  Breaking stereotypes associated with the Punjabi film industry - a group of young & enthusiastic city based film-makers have made a 15 minute short film 'Pinds of Punjab',  by using the concept of 'cinematic realism'.  'Cinematic realism' is a type of film making style which presents characters that are very much akin to real life people & the style of making establishes a realistic feel amongst the audience. The short film 'Pinds of Punjab' has been released recently on YouTube under the banner of Tranza Studio.
The independent short film depicts different hues of present-day rural Punjab, by touching issues like substance abuse and caste based discrimination.
Twenty-year-old(20) Nishaant Singh Bhinder, founder & MD of Tranza who has also directed and written 'Pinds of Punjab' said, "The short film has the potential to change the perception of Punjabi cinema as it is viewed in India and around the globe. It does offer a new avatar of Punjabi cinema. The story is told realistically  without much fanfare. The fact that the genre of the film is 'crime thriller' also puts it in a different league."
Angad Singh(20), cinematographer & producer of 'Pinds of Punjab'  who is also cofounder of Tranza Studio said, "The short film offers something new. The characters are very relatable and the portrayal quite natural, these aspects am sure will be something that audiences will like."    
AKS Mehraj a well known actor and writer of the Punjabi Film Industry has written the dialogues of the film and has also acted in it.
Anmol Sidhu(26) , creative director added, "The genre is less explored in Punjabi cinema and the unconventional style of storytelling and shooting compliments the overall screenplay."
The story revolves around the life of a couple, the girl is the daughter of a  prominent landlord and is eloping with a migrant farm labourer from Bihar, who belongs to an inferior caste to her, as she is an upper caste Jat Sikh. As the story unfolds, it exposes the couple to many hurdles which manifest themselves due to a nexus of extortion, drugs, and caste abuse.
It is noteworthy that Tranza Studios, has been co-founded by a team of the young individuals based in Chandigarh, and has been operating in India, Ireland, and Canada. In the past 3 years, the studio has successfully delivered 2 feature films and 8 short films, which have even received recognition at National and International Film Festivals.

Jappreet Singh(24) who has made the music score said, " Each character including the location of the film is associated with a particular music instrumentation. It's the combination of these that help achieve the goal set out for the music of the film."