Young author honored by Ankur School Panjab University
He is one of the authors of the comic book 'Kids, Vaayu and Corona: Who wins the fight'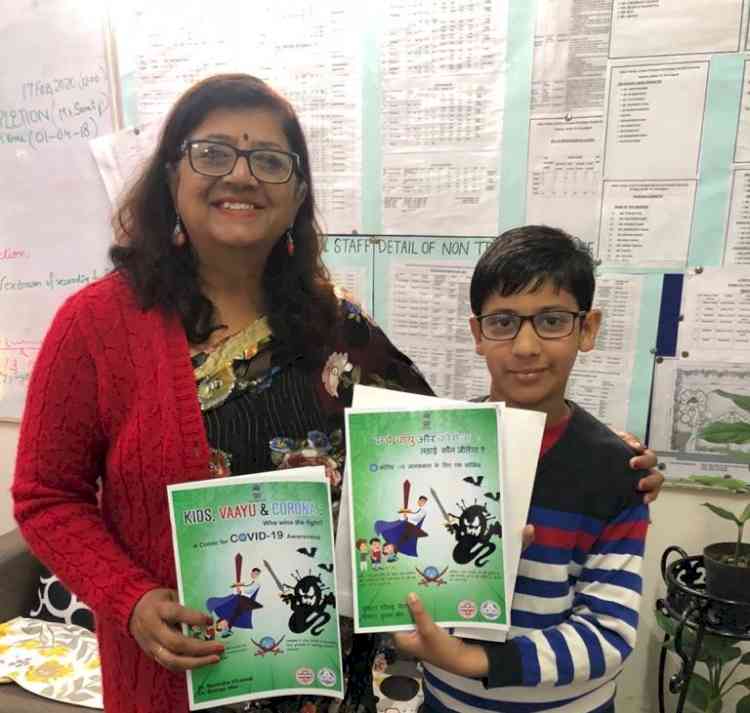 Chandigarh: Today, one of the authors of the comic book 'Kids, Vaayu and Corona: Who wins the fight' met her principal. The comic was released by Health Ministry to make the children aware and how to prevent infection.  Principal appreciated the efforts of Aaditya, who is a student of class 3 and now promoted to grade 4. 
Dr.Parminder Duggal, Principal, Ankur School, appreciated the efforts of the young author for comic to teach the students in an interesting way and how to remain safe and prevent the spread of coronavirus disease. She further highlighted that the comic bursts many myths, and students could share the knowledge with their families. 
Aadtiya explained that he contributed to content development, including the design of the comic characters, so that it becomes more appealing to his age group. 
Dr. Ravindra Khaiwal, Professor in PGIMER, Chandigarh, and Dr. Suman Mor, Chairperson of Environment Studies, Panjab University, Chandigarh, are the parent of Aaditya and also the authors of the book. They mentioned that the contribution of the children were essential to target the age group audience and how they perceive the information to make it more useful. 
The comic strip on preventing the novel Coronavirus is also available on the CBSE website and can be downloaded from the following link (cbse.nic.in/newsite/attach/Corona_comic_PGI_final9March20.pdf). The tweet from the ministry of health said that comic 'Kids, Vaayu and Corona: Who wins the fight' makes the information on COVID 19 easy for children. 
This comic would make children aware of the threat of Coronavirus and how to remain safe through simple precautionary steps. 
Health ministry is also planning to translate this book in various Indian languages, and soon the comic will be available in other languages.