Yearlong tribute to Dalai lama proposed to celebrate His 85th Birthday: Dr Lobsang  
CTA and Tibetans around world will observe year from 1 July 2020 to 30 June 2021 as 'Year of Gratitude'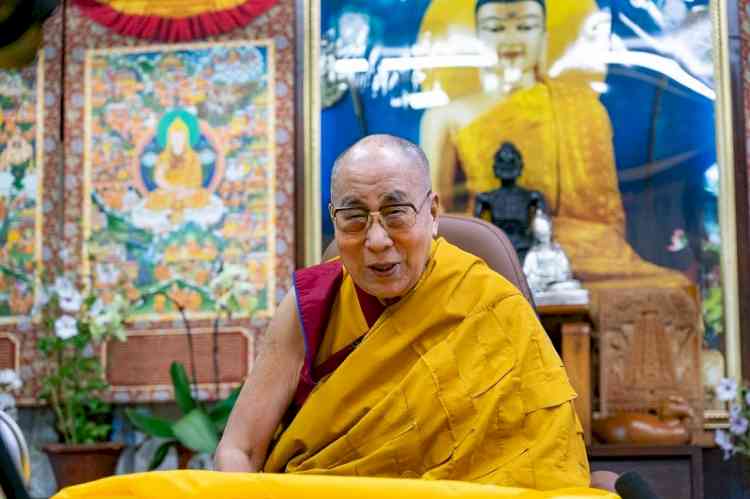 Dalai Lama.
Dharamshala: The Dharamshala based Tibetan government, better known as  Central Tibetan Administration (CTA) said that despite the restrictions imposed  due to corona virus pandemic, there will be no shortage of celebrations for the upcoming 85th birthday of Tibet's most esteemed leader and global icon,  the 14th Dalai Lama. In appreciation of all his outstanding contributions, the CTA and Tibetans around the world will observe the year from 1 July 2020 to 30 June 2021 as 'Year of Gratitude' to His Holiness the Dalai Lama and endeavour to share, promote and celebrate the teachings and the lifework of the Dalai Lama. Starting 1 July, the CTA has lined up a series of virtual events to celebrate the auspicious occasion of His Holiness' 85th birthday
The Kashag (Parliament) of Central Tibetan Administration is all geared up to mark the 85th birthday celebration of His Holiness with a series of worldwide virtual events.
Sikyong(Tibetan PM also known as President CTA,  Dr Lobsang Sangay announced, " the 6th July celebration at the CTA headquarters in dharamshala north India ,will be observed through a high-level gathering of senior dignitaries of not more than 50 as per the Home Ministry's corona virus guidelines for public gatherings. Likewise, Tibetan settlements throughout India will mark the occasion with official ceremonies all the while ensuring strict adherence to the respective district, state and central guidelines."
Under the banner of 'Year of Gratitude', Dr Lobsang Sangay further announced a series of virtual celebrations and events expected to begin from 1 July 2020 through 30 June 2021 as a yearlong tribute to the Tibetan supreme spiritual leader and his lifelong achievements.
"As His Holiness turns 85, one cannot but marvel at his glorious achievements and the immeasurable contributions to the Tibetan community and the world alike. His Holiness' legacy will be written in golden words in the annals of Tibetan history. Such is the grand lifework and contribution to the preservation of Tibet's cultural, religious, historical, and linguistic heritage as well as to the promotion of non-violence, human rights, religious tolerance, environmental awareness, and democracy around the world," Sikyong said.
With the celebrations right around the corner amidst the ongoing COVID restrictions, Tibetans around the world are ringing in the 85th birthday of their supreme leader and the 'Year of Gratitude' with virtual tributes and celebrations planned on a grand scale throughout the year.