World Population Day observed at CHC Mukandpur 
Health Department is making all efforts to curb the rapid growth of the population, says SMO Dr Ravinder Singh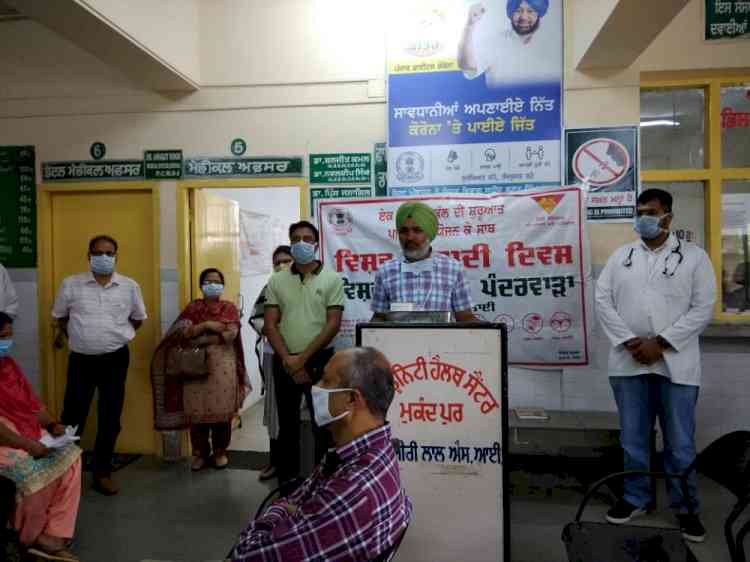 Nawanshahr: World Population Day was observed under Mission Fateh campaign at CHC Mukandpur. During interaction SMO Dr Ravinder Singh said that the health department is making all efforts to curb the rapid growth of the population through various means of communication and to create awareness about its fatal consequences. Increasing population is a threat to the nation's development and is a matter of great concern for all of us. In coming years, we will face shortage of our natural resources like water, food and other daily necessities. He said that in order to control the population, a boy and a girl should be married at the right age, the first child should be delayed and there should be a gap of at least three years between the children. A couple should limit their family size to only one or two children and girl child should be accorded equal status.
This year's theme stresses on the need of stabilising the population. The basis of a strong nation and family depends upon bringing solidity to a expanding of population even during pandemic like Covid-19. This fortnight aims to promote reproductive health, and to reduce maternal, neonatal and child morbidity and mortality.
On this occasion, MO Dr Simi and Block Extension Educator (BEE) Harpreet Singh apprised about the adverse effects of the growing population and said that after marriage the couple should plan the family. 
Dr Simi informed that family welfare methods should be adopted by the eligible couple. She emphasized on adopting new methods of family planning like chhaya pills, antra injection and IUCD. She also encouraged eligible to adopt permanent family planning methods such as tubectomy and vasectomy and if persons adopting these permanent methods they are given adequate monetary compensation by the government. 
On this occasion, Dr. Naranjan Ram, Dr. Navaldeep, Dr. Prince, Dr. Jasminder Singh, Dr. Sunita, Dr. Balkar, Dr. Kulwaran, Dr. Raman, Paramjit Bhangu, Rajkumar, Gopal, Sachdeep Singh, Amarjit, Pooja, Neelam and Rajwinder Kaur were also present.