"World of Christmas at Phoenix Marketcity"- The Tree of Jubilation
The tree is beautifully decorated with lit motifs, Christmas greens and baubles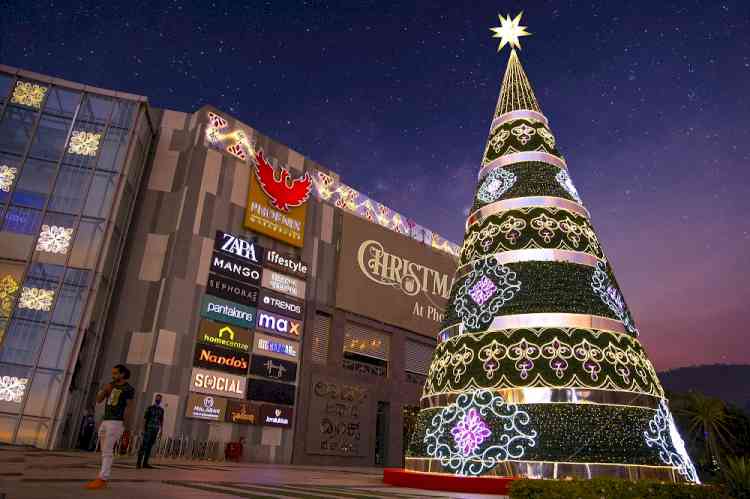 Bengaluru: With Christmas round the corner, it's that time of the year again when Santa visits us and fills our homes with happiness and goodies. Yes, its Christmas time! Phoenix Marketcity Bengaluru is all set to take Christmas celebrations to a whole new level this year with its mesmerising Christmas décor to spread the festive cheer! Be fascinated by the shimmering display of lights adorning this gigantic Christmas tree with an inimitable European design! The larger than life magnificent Christmas tree is making people go 'woooow' in amazement, also creating a wonderful photo opportunity for people to take memorable selfies. The mall is exquisitely lit, with Christmas jingles and sounds of hope filling the air. Festive offers, gifts, laughter, and happy people complete the picture. 
The tree is beautifully decorated with lit motifs, Christmas greens and baubles. Witness this beautifully laid out Christmas surprise all December at the mall and explore a wide variety of trees, baubles and festive trinkets at our Christmas pop ups, with exciting products curated from across the world. Get clicked and post your Christmas selfies to spread the magic of Christmas!
Shoppers will be spoilt for choice as 'World of Christmas' at Phoenix Marketcity this year promises to be bigger and better than ever before with trending accessories, cute artifacts, home decor products and other exciting festive merchandise. This Festive Season gets more rewarding with INR 1cr worth prizes to be won on shopping, It is pouring deals at Phoenix Marketcity where customers can stand a chance to win grand prizes like Car, Bike and much more. That's not all, Santa will be welcoming every visitor at Phoenix Marketcity to spread the festive spirit by handing out presents to little ones
 
Mr. Gajendra Singh Rathore, Senior Centre Director at Phoenix Marketcity Bengaluru said "We are delighted to wish all our customers a Merry Christmas and a very happy new year. Christmas at Phoenix has always been a special affair, we always try to do something unique and different every year to surprise our customers and have outdone what we did last year by setting up a magnificent 'World of Christmas' décor. That's not all, we are also setting up a European themed Christmas market that will showcase Christmas products from all over the world which will be on sale so it is a great time to take home some Christmas goodies. We have gone one step further to ensure our customers are safe at the mall with our SOPs in place. We invite you to be a part of "World of Christmas at Phoenix Marketcity and experience the magic of Christmas!