World Hand Hygiene Day observed at DMCH
Department of Microbiology and Hospital Infection Control Committee DMCH celebrated "World Hand Hygiene Day" by organizing Central Session on Hand Hygiene for PG Residents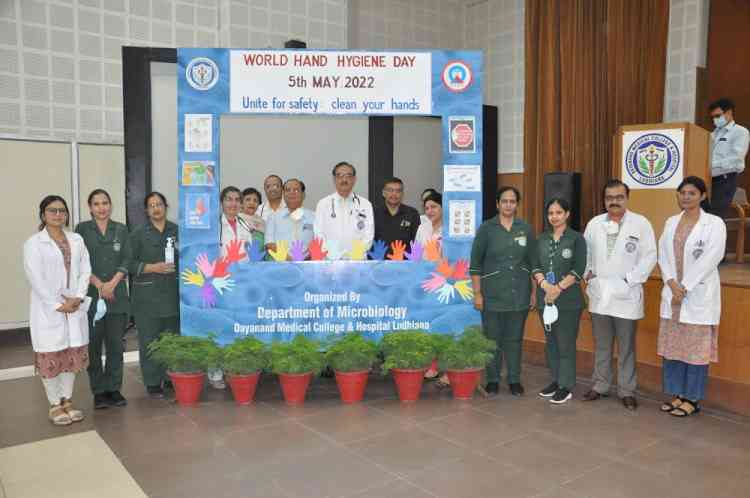 Ludhiana, May 5, 2022 : Department of Microbiology and Hospital Infection Control Committee DMCH celebrated "World Hand Hygiene Day" by organizing Central Session on Hand Hygiene for PG Residents on 4th & 5th May, training session for nursing & technical staff (Microbiology) and Public awareness on Hand Hygiene in waiting area of DMCH Cancer Centre, Hero DMC Heart Institute  and in  Medicine OPD Block of  DMCH by infection control nurses.
Secretary DMCH Managing Society, Sh Prem Kumar Gupta lauded the efforts for organizing this event to create awareness among healthcare workers and the general public.
During the session Principal  Dr Sandeep Puri, Dean Academics Dr Sandeep Kaushal, Medical Supdt. Dr Ashwani K Chaudhary and Dr Sandeep Sharma were present on the occasion.
In his message Dr Ashwani K Chaudhary, Medical Supdt. & Chairperson Infection Control Committee said that hand washing is one of most effective way to prevent infections including COVID-19 and patients' safety  
Dr Veenu  Gupta,  Professor & Department of Microbiology, highlighted that every health care worker should follow 5 moments & 6 steps of hand hygiene given by WHO. The theme of World hand hygiene day for the year 2022 is "Health care quality and safety climate or culture" and the slogan is "Unite for safety: Clean your hands"
Regular audit was conducted by Hospital infection control committee members to check hand hygiene compliance among  health care workers.During the session quiz competition was also conducted winners for the quiz were Dr. Purnima form Department of Anaesthesia, Dr. Sameera and Dr.  Neetu from Department of Anaesthesia, and Dr. Diksha from Department of  surgery Ms Sukhbir Kaur (Nurisng Department) and Mr Baldeep Singh (Technical Staff).
During the awareness lecture, following steps for hand washing were emphasized  
1)    Rub palm to palm
2)    Wash between fingers at back of hands
3)    Palm to palm with finger interlacing
4)    Back to fingers to opposing palms with fingers interlacing
5)    Circular rubbing of left thumb in closed right hand and vice versa
6)    Circular rubbing backwards and forwards with closed right fingertips in left palm and vice versa