World Food Day: Dr Sonu Goel gives tips to remain healthy
Dr Goel is Professor, Department of Community Medicine & School of Public Health, PGIMER, Chandigarh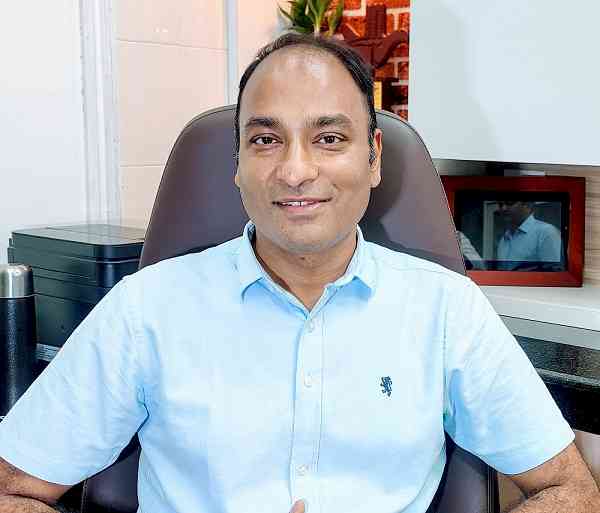 Dr Sonu Goel, Professor, Department of Community Medicine & School of Public Health, PGIMER, Chandigarh.
1.    How important is food for the human body?
Food is 'fuel of our body' that provides adequate nutrients and energy for carrying out any activity besides keeping the immune system healthy. In early days, the consumed food was primarily organic, unaltered and nutrient-dense. These were not processed or packaged. The advent of modernization and mechanization, over time brought about modification of food from its natural state.
 
2.    What, according to you, is 'Good' and 'Bad' food?
Good foods, also called healthy food, are rich in nutrients like vitamins and minerals, full of fiber, unprocessed, low in added sugar and added salt, and render appropriate energy levels. However, bad or unhealthy food is highly processed and generally has low nutritional value, high in added sugars, salt saturated and trans-fats. In order to increase their shelf life, the bad foods are added with artificial flavors, preservatives, and chemical compounds. Examples include cake, pizza, pastry, French fries, fried noodles, fried chicken, ice-cream, biscuits, chocolates, chips, and soft drinks.
 
3.    What are the health effects of having 'bad food' on a regular basis? Could you please share some recent statistics/data on food habits and its relation with NCDs?
Eating unhealthy food, like a diet low in fruits and vegetables and high in fat, sodium, and sugar, regularly results in an increased risk of obesity and chronic diseases like cardiovascular disease, type 2 diabetes, obesity, non-alcoholic fatty liver disease and other diseases. The main risk factors identified for their occurrence involve unhealthy diets, physical inactivity, tobacco use, and alcohol misuse. A recent study published in The lancet journal on assessing the health effects of dietary risks were conducted over 195 countries (1990–2017) where it was found that 11 million  deaths and 255 million Disability adjusted life years (DALYs )were attributable to dietary risk factors such as high intake of sodium,low intake of whole grains, low intake of fruits etc. The deaths from NCDs in India have increased from 48% to 75% in almost three decades. It has been observed that nutrition labelling plays a crucial role in shaping consumer level food behaviour. It provides information accessible to the people to make healthy food choices.
 
4.    As we know Punjab is one of the states in India having very high prevalence of hypertension. Can you share what the Department of Community Medicine and School of Public Health is doing in strengthening the hypertension management for prevention and control of non-communicable diseases?
 
Punjab is a state where more than 35.7% of the population is suffering with high blood pressure, which is much higher than the national average of 25.3%.The Department of Community Medicine and School of Public Health, PGIMER, Chandigarh is implementing a project entitled, 'Strengthening the management of hypertension services through capacity building, media and communication and stakeholder's engagement in the state of Punjab' to strengthen the prevention and management of hypertension services. The project activities include organization of various capacity building trainings of the community health officers and food safety officers, strengthening of telemedicine services at the district and state level, and engaging media houses for generating awareness on hypertension and risk factors in the state of Punjab, etc.Recently a Memorandum of Understanding (MoU) has been signed between PGIMER, Chandigarh and Food and Drug administration, Punjab to strengthen the implementation of trans fat regulation in the state of Punjab. This is first of its kind initiative where any state government has collaborated with the premier medical institute of the country for jointly working on the trans-fat related activities for creation of 'Tandrust' (Healthy) Punjab'.
 
5.    Earlier it was believed that non-communicable diseases emerge with age. However, recent trends show that diseases like hypertension, diabetes and stroke are increasing among the younger population too. Is bad food leading to this trend or are there some other reasons for it?
 
The dietary habits of youth in low-to-middle income countries like India have rapidly shifted to less-healthy diets consisting of processed and trans-fat rich foods, away-from-home food intake, and increased use of edible oils and sugar-sweetened beverages. It has been reported that young adults are prone to obesity in the transition from childhood/adolescence to adulthood and heart disease by 21% and deaths by 28%.The high consumption of bad food combined with other unhealthy lifestyle factors, such as a high body mass index (BMI), physical inactivity, and smoking have led to rising trend of NCDs among young population.
 
 
6.    Please suggest the foods which should be avoided and are so readily available and alluring people with its succulent taste?
•         Deep fried foods (spring rolls, chicken nuggets, French fries etc.)
•         Ready to eat frozen foods (pizza, pizza pockets, French fries, egg rolls, veggie and patties etc.)
•         Hard (stick) margarine.
•         Commercially baked goods (donuts, cakes, pies,icing, puff pastry, pie crusts, cake mixes,waffles, pancakes etc)
•         Packaged salty snacks (microwave popcorn, chips, crackers, namkeen etc)
•         Packaged sweet snacks (cookies, biscuits, granola bars etc)
 
 
7.    You suggested that one should read nutrition labels given on the back side of the packaged food before buying or eating it, how could we interpret the given nutrient values?
•         Look at the number of grams of trans fat in the Nutrition Facts table. Choose products with the lowest amount. 
•         Look at the %DV (percent daily value) beside saturated fat on the Nutrition Facts table. Choose products with 10% DV or lower for saturated fat (this number is actually for the total of saturated and trans fat). The lower the number the better. Foods with a 5% DV or lower are considered low in fat. 
•         Check the ingredient list: avoid eating foods made with hydrogenated or partially hydrogenated oil and shortening
•         Look for words such as "free of trans fatty acids", "reduced in trans fatty acids" and "lower in trans fatty acids".
 
8.    Any key message you want to give to the general public and government on this world food day.
General public should shift to healthy choices such as
•         Eat more vegetables, fruits, and unprocessed whole grains
•         Choose grilled, steamed, broiled or baked instead over fried
•         Cook at home whenever you can.
•         Bake your own cakes, muffins and pancakes instead of relying on pre-packaged mixes.
•         Cook with a soft, non-hydrogenated margarine instead of margarine, butter or shortening.
•         Read nutrition labels on packaged foods to make lower saturated and trans fat choices. The trans-fat levels should not be more than 2%
•         Use healthy mono-unsaturated and poly-unsaturated fats most often, which include mustard oil,olive oil, canola oil, vegetable oils.
 
We recommend that the Government of India should come up with a policy of Front-of-pack labelling (FOPL) for introduction of strong and stringent food labels that may help consumers with informed food choices. It will allow the consumers to identify products containing excess sugars, trans-fats, oils, and sodium easily, quickly, and correctly.