World class institution should be set up in memory of Bhai Nirmal Singh Khalsa: Chairman Geja Ram Valmiki
Cleanliness and sanitation drive being carried out under supervision of commission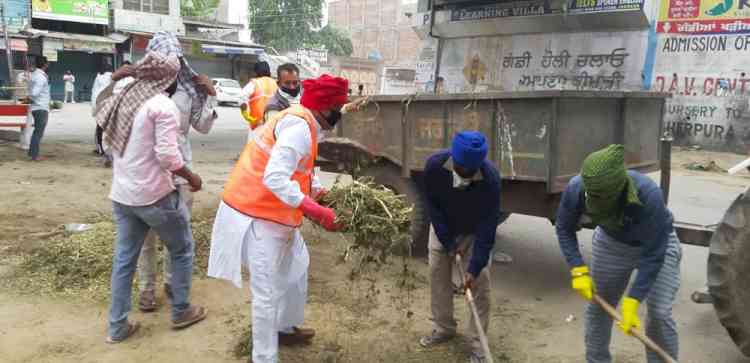 Jagraon (Ludhiana): Safar Karamchari Commission Punjab Chairman Mr Geja Ram Valmiki today termed the death of World renowned Ragi and Padma Shri Bhai Nirmal Singh Khalsa due to Novel Coronavirus (COVID 19) as a great loss to our society. He said that the kind of treatment meted towards the deceased ragi while performing his cremation has hurt the sentiments of a large number of people. 
    In a letter written to Chief Minister Capt Amarinder Singh, Mr Valmiki has appealed to the Punjab government that the real tribute to this great personality would be the construction of a world class Sangeet Kirtan Academy or a hospital or a college in his memory. He also appealed that Bhai Nirmal Singh Khalsa should be honoured with a title of "Vishwa Ragi" or "Vishwa Kirtaniya" and a case under SC/ST Act should be registered against persons who tried to disrupt his cremation. 
    It is pertinent to mention that the Capt Amarinder Singh led Punjab government is making sincere efforts to check the spread of COVID 19, similarly, a large scale cleanliness and sanitisation drive is also being organised under the supervision of Mr Valmiki in Jagraon. The cleanliness and sanitation drive was held in ward number 8 of Jagraon town, and the government offices are also being sanitised.
    He said that following the directions of the Punjab government, the Safai Karamchari Commission have intensified the cleanliness and sanitation drive in all parts of the state. He said that if our surroundings are clean, then we can keep ourselves safe from all kinds of diseases. He also urged the residents to stay indoors and follow all directions issued by the Punjab government. He assured that all essential commodities would be provided to the residents in their houses itself.
    He appealed to the Safai Karamcharis to ensure that they perform their duties with utmost devotion and honesty in this hour of need so that people can stay safe. He also appealed to the residents to assist the safai karamcharis in keeping their surroundings clean.