World Book Day: Higher Education Minister Tript Bajwa launches pictorial visuals depicting significance of books
These pictorial visuals have been prepared by Punjab based lawyer and author Harpreet Sandhu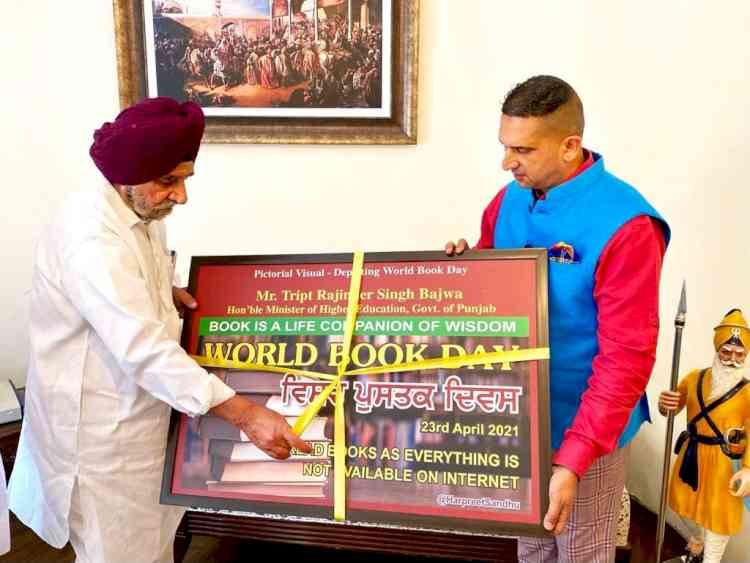 Chandigarh:
With an aim to promote reading and publishing as a mark of respect on the anniversary of William Shakespeare, Punjab Higher Education Minister Mr. Tript Rajinder Singh Bajwa emphasized the importance and significant meaning of books in human life. The cabinet minister said that everyone must value books as these are the source of knowledge with infinite benefits which enables humans to think over subjects of interest, remember new words and expands their vocabulary. He added that apart from these benefits, the books teach us new writing skills, keep the brain working positively, update with languages and expand imagination and knowledge as well.
Mr. Tripat Bajwa said, "Hence, we must encourage younger generations to discover the pleasure of reading by enabling them to gain knowledge on different subjects. Though, we mark and celebrate this day within our educational institutions but due to COVID-19 lockdown, still I carry forward this significant day by launching a special pictorial visual portrait highlighting the significance of World Book Day having an appropriate quote 'Book Is Life Companion of Wisdom' prepared by Punjab based lawyer & author Harpreet Sandhu." Education Minister applauded the innovative work to promote importance of books initiated by lawyer Harpreet Sandhu on the world book day.
The minister added that despite availability of social media platforms i.e. Whatsapp, Facebook, Twitter etc, books are valuable sources of knowledge which enable them to think over subjects of interest further enabling them in making informed decisions. He added that reading books also add values and morals of good and humble life as books certainly generate ideas and meaningful thoughts. He said that during the tough times arisen due to Coivd-19 pandemic, books can be the best companion of a person during lock down phase.
On this occasion, Gurdarshan Singh Bahia OSD to Higher Education Minister among several other dignitaries was also present.