World AIDS Day: Health Minister Balbir Singh Sidhu presides over state level function in Ludhiana 
World AIDS day is celebrated every year world-wide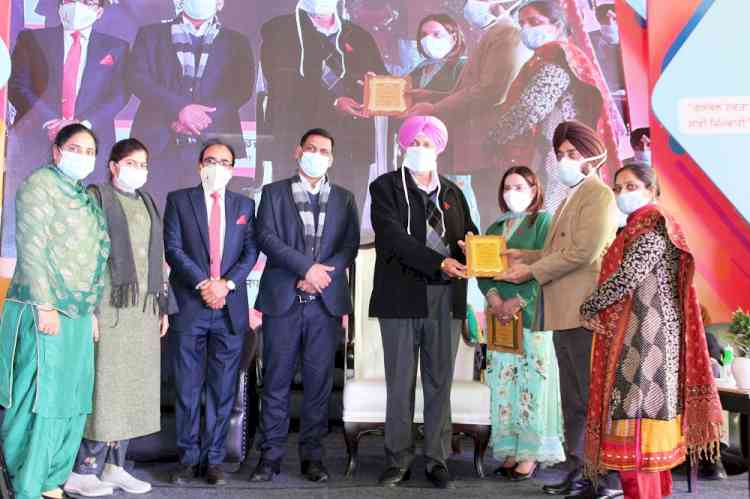 Ludhiana: To mark the World AIDS Day, a state-level function on the theme "Global Solidarity, Shared Responsibility" was organised at Kingsville Resort here on Tuesday. 
The event, which was presided over by the Punjab Health and Family Welfare Minister Balbir Singh Sidhu was organised by the Punjab State AIDS Control Society (PSACS) in collaboration with District Administration and Health Department Ludhiana.
Health minister Balbir Singh Sidhu, while addressing the gathering said that it is now more than 39 years since AIDS was first detected in India, at that time, no one could have anticipated that this infection would become a global problem of extraordinary scope and unprecedented ramifications. "Even till a decade ago, HIV and AIDS were regarded as primarily a serious health crisis. Today, it is clear that AIDS has become a developmental disaster and there is now compelling evidence to show that the trend, if not stopped, will erode the development gains achieved so far," he said. 
He further added that, the situation in Punjab is not worse as compared to the rest of the country as the majority was safe here.
Special secretary Health & Family Welfare cum Project Director PCAS Amit Kumar said that increasing incidence of drug abuse and drug related HIV in the state of Punjab is a matter of great concern. He said that the problem is serious as increasing numbers of youth are getting into the habit of drug use, particularly pharmaceutical drugs through injection. "It has been observed that the drug intake pattern has changed over a period of last 4-5 years and drug users are shifting from oral to injecting mode which has resulted in increasing incidences of injecting drug use and related HIV in the state," he said.
He said that at present 35 Opioid Substitution Therapy (OST) Centres are functional in 18 districts of the state. It has helped IDUs in overcoming their injecting habit, he said adding that IDUs, who are taking the treatment regularly are showing signs of stabilisation. 
He said that the Health Department of Punjab and PSACS was making all efforts to address the issues of drug abuse with particular focus on Injecting Drug Use. 
Civil Surgeon Ludhiana Dr Rajesh Kumar Bagga said that the parent to child transmission is also preventable therefore we
must ensure HIV testing and prompt Anti-Retroviral treatment to all pregnant women in order to eliminate transmission from mother to child.  
Giving further information, Assistant Project Director PSAC Dr Manpreet Chattwal said that as many as 915 Integrated counselling and testing centres (ICTC) centres are functional in all Medical Colleges, Districts Hospitals, and Sub Divisional Hospitals/CHCs/PHCS, and Central Jails. She said free HIV counselling and testing services are being provided by the trained staff to the people on their own free will or as advised by the Medical Provider. "In Punjab, 31 Designated STI/RTI clinics (DSRCs) are established at district/sub-districts hospitals & Government Medical Colleges", she added.
Meanwhile, World AIDS day is celebrated every year world-wide to look over the progress made so far and the actions needed to be taken to tackle further spread of this disease. In Punjab, this day is celebrated by PSACS to raise awareness,
understanding about the disease, exchange information and experiences, thereby expressing support for people living with HIV and AIDS.