Workshop on universal accessibility 
Centre for Human Rights and Duties conducts the event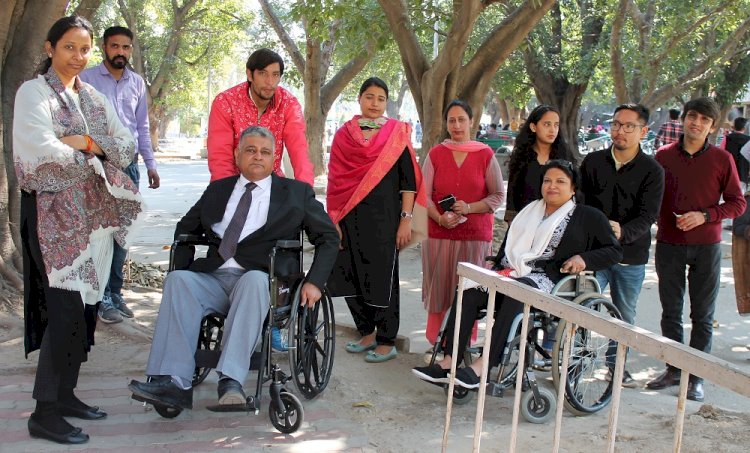 Chandigarh: Centre for Human Rights and Duties, Panjab University, Chandigarh along with Samarthyam, an NGO which works for creating national and publicly accessible environments organized a one day Training Workshop on Universal Accessibility, here today. 
Dr Namita Gupta, Chairperson stated that the purpose of the workshop is to sensitize students, faculty members as well as University officials about the various barriers faced by differently abled people. 
The sessions were conducted by Ms. Anjlee Agarwal, Founder and Executive Director of Samarthyam, New Delhi and D. Chakravarti, Director, and Universal Design Consultant, Samarthyam who promoted sustainable and livable societies imparting requisite information on National Legislations and Guidelines affecting the rights of the differently-abled. She gave an elaborate presentation on the rules contained in the National Building Code, 2017 and also discussed on the urgent need for Public Institutions to have universal building designs that are not just accessible, disabled-friendly but also cost effective. She emphasized on the importance of sensitization for legislators, policy makers as well as the general populace to create a conducive and barrier-free environment. 
Pragmatic activities and exercises comprising blindfolding students with assistive devices like cane as well as student were asked to wheel the wheelchairs from the building to the Student Centre were done with the students. These were done to identify the existing barriers in the immediate academic environments garnered towards comprehensively understanding the difficulties of physically challenged on wheelchairs and visually-impaired. 
Further the session was themed around the Universal Accessibility Standards in Built Environments as well as the Way-forward where Corporate Social Responsibility is an effective exercise was done by companies to effectively create inclusive barrier-free environments. 
The workshop was attended by Dr. Ramesh Kataria, Coordinator Equal Opportunity Cell, Panjab University, Chief Engineer Panjab University Mr. Rai, X.E.N Mr. Bhalla and Dr. Upneet Kaur Mangat, Assistant Professor, Centre for Human Rights and Duties.  In the end, all participants pledged to contribute and raise awareness at creating a barrier free environment in Panjab University.