Workshop on "subtle nuances of classical and light music"
The resource persons of the day were Dr. Santosh Nahar and Madhuresh Bhatt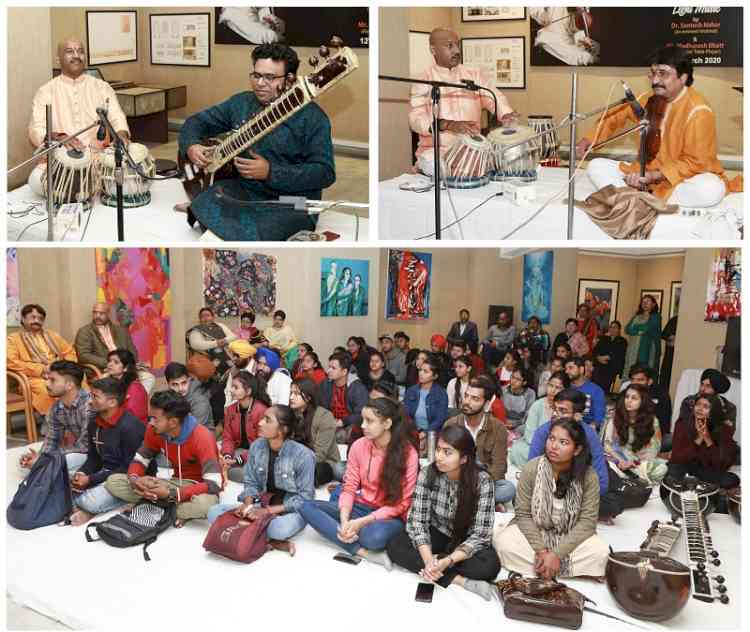 Jalandhar: PG Department of Music Vocal and Music Instrumental of Apeejay College of Fine Arts, Jalandhar organised a one day workshop on "Subtle Nuances of Classical & Light Music". The resource persons of the day were Dr. Santosh Nahar who is an eminent violinist of famous Bhagalpur Mishra Gharana and Mr. Madhuresh Bhatt, a renowned Tabla Player of Banaras Gharana.
Receiving them warmly, Principal Dr. Sucharita Sharma said, at our college Music Vocal, Music instrumental and dance – all the three subjects are taught both at graduation and post graduation levels. So in this scenario, it becomes significant for the students to learn the differences between these types of music and if the students can get that guidance from experts, it will be a cherry on the cake.
Dr. Arun Mishra, Cultural Coordinator of College shared with the audience that classical music is the base of music and is wrapped within the specific rules which cannot be moulded as per our convenience. On the other hand, light music, if alterations be made, they are done keeping in view the rules and regulations of classical music.
The workshop begun with Mr. Smarajit Kumar Sen's Sitar performance Dr. Santosh Nahar playing Bandish in Raag Basant Mukhari, acquainted the students about Classical Music and said to become an expert in music and its various Ragas, one needs to burn midnight oil and practice consistently. He also told the students about the technicalities of folk music. Mr. Madhuresh Bhatt, a renowned Tabla Player showed his love towards music with his amazing skills on Tabla.
College students Nisha and Dipali sung sufi songs and awed the gathering. Principal Dr. Sucharita Sharma congratulated Dr. Arun Mishra and Dr. Amita Mishra for successfully organizing the event.