Workshop on productivity improvement through lean manufacturing and smart manufacturing (industry 4.0)
Event organised by CICU in association with national productivity council and MSME-DI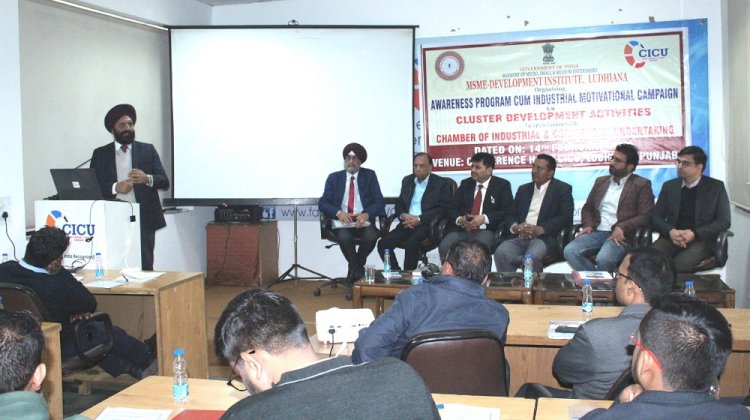 Ludhiana: National Productivity Council (NPC) (Under Ministry of Commerce and Industry) is celebrating National Productivity week during 12-18 February, 2020. On this occasion CICU has organized a workshop on "Productivity improvement through Lean Manufacturing and Smart Manufacturing (Industry 4.0)".
 
Smart Manufacturing are systems that are "fully-integrated, collaborative manufacturing systems that respond in real time to meet changing demands and conditions in the factory, in the supply network, and in customer needs.  Lean Manufacturing is optimizing processes and eliminating wastes which help in cutting costs while still delivering high-quality product customers want and are willing to pay for.
 
Mr. S.P. Singh Deputy Director, NPC Chandigarh heighted the importance of productivity enhancement for the growth of Industry. Mr. S.B. Singh a lean Manufacturing Consultant and Joint Secretary CICU explained about Lean Manufacturing Concepts and their implementation in the units, which participated in Lean Manufacturing Clusters formed by CICU.
 
Mr. Sidhant Sroop, Director, Marshall Machines gave a presentation about Smart Manufacturing and Industry 4.0. Mr. Deepak Chechi, Assistant Director MSME-DI, Ludhiana explained about the Schemes of MSME Department like MSECDP, Lean Manufacturing Competitiveness Scheme, Marketing Development Assistance etc. Mr. R.S Solanki from OTIFAS a Lean Manufacturing Consultant shared some case studies of Practical implementation of Lean Manufacturing in Cluster Units. Mr. Rakesh Pathak from DIC Ludhiana explained about the Delayed Payment Act and the services being provided by DIC for claim of delayed/denied payment to MSMEs.
 
Mr. Upkar Singh Ahuja, President, CICU thanked NPC, DIC and MSME-DI officials and for conducting this very useful program and asked the participants to get maximum benefit of MSMEs Schemes, especially Cluster Development programs. 
 
Further facilitation/certificate distribution for those Lean clusters was done, who have successfully completed MBR 5 stage under LMSC Scheme of MSME.