Workshop for industrialists organised in Ludhiana
Industrialists sensitised about various government schemes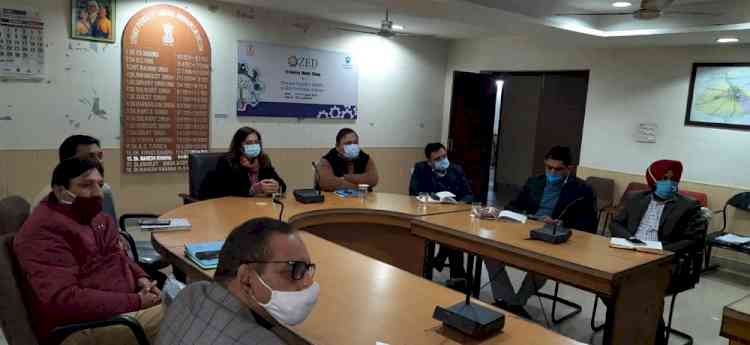 Ludhiana: The department of Industry and Commerce in collaboration with the District Administration on Monday, organised a workshop for industrialists to brief them about various welfare schemes of the government.
The workshop was held under the chairmanship of Additional Deputy Commissioner (ADC) Jagraon Neeru Katyal. General Manager District Industrial Centre (GMIDC) Mahesh Khanna and Project Manager Maninder Singh were also present.
While addressing the industrialists, ADC Neeru Katyal introduced the industrialists about the Punjab Government's Industrial and Business Development Policy (IBDP 2017), Business First Portal, State Reforms Action Plan 2020 (SRAP 2020), Ease of Doing Business, Right to Business Act 2020 and other schemes of the department. She also sought feedbacks from the industrialists. 
To ease and streamline the process of getting clearances, GMIDC Mahesh Khanna and Project Manager Maninder Singh informed the users that the Punjab Government has introduced the Right to Business Act 2020. They informed that under the act, any entrepreneur, who wants to set up his industry in an industrial focal point or industrial area or in an industrial zone designated by the Department of Housing and Urban Development of the Punjab Government, can apply online by submitting proposal online on the Punjab Government's Invest Punjab Business First Portal and can get clearances or NOCs through it. 
General Manager Khanna said that all the approvals are time bound, which has to be given within three days for the industries established within the focal point and within 15 days for the industries established in the industrial zone. 
He said that they will give a principal approval, which would be valid for three and half years and during this time the entrepreneur could get regular approval. He explained that all these clearances or NOCs approvals can be given by the Deputy Commissioner of the concerned district. They also informed gathering about the State Reform Action Plan 2020.
Meanwhile, the industrialists were also cleared about the doubts or queries related to the industries.