Women leaders suggest novel ideas at ISB to better corporate diversity and inclusion
Diversity and Inclusion Summit 2020 comes up with ground breaking ideas to give women more space in technical roles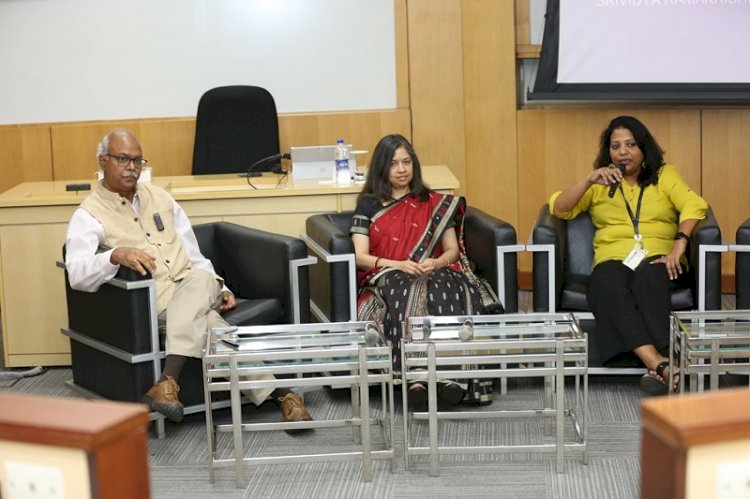 Prof, Chandrasekhar Sripada of ISB in a panel discussion with Aparna Pathak (L), Global Head of Diversity & Inclusion, Novartis Business Services and Srividya Ramakrishnan - Senior Director, Dr Reddy's Labor.
Hyderabad: Recently, two global studies on women at work, one by the World Economic Forum and another by UN Women, have revealed some disturbing facts. With the advent of new technology, women seem to be falling behind in work participation for technical roles. Emerging technologies such as artificial intelligence, machine learning, robotics, and data analytics, were found to be heavily male-dominated - as women's participation in these areas accounted for less than 20 percent of the workforce.
 
To discuss and understand ways to break this barrier for corporate India, the Srini Raju Centre for IT and the Networked Economy (SRITNE) at Indian School of Business (ISB), hosted more than 60 professionals, men, and women alike, representing corporate India for its first Diversity and Inclusion (D&I) Summit today at the Hyderabad campus of ISB.
An inter-disciplinary group of women leaders from industry, government, and academia met to discuss ways and means of promoting diversity and inclusion of women in technology at this Summit.
 
The Summit was inaugurated by Rajendra Srivastava, Dean ISB. In his inaugural address, he said: "We do not acknowledge and appreciate the contribution of women to business and society. And this needs to change."
 
He highlighted that at ISB, there are targeted programmes to have more women business leaders. Given that women's participation in the labour force of India had dipped from 42% some ten years back to just about 27% now, the topic of diversity and inclusion is the need of the hour.
 
Setting the tone for the conference, Professor Deepa Mani, Executive Director, SRITNE, pointed to economic data, which shows that 20% of the women are in the workforce in India and that 90% of them are in the unorganised sector. 'This is higher than most nations,' "Women are driven to the lower trajectory by organisations, and this must change," she said, citing several recent research findings.
 
Among the key speakers were Anju Sharma, Principal Secretary, Higher and Technical Education, Government of Gujarat, and Malini Agarwal, Additional Director General of Police, Rajasthan. In her keynote address, Anju Sharma highlighted that the problem of women falling behind in the professional realm was primarily because women are considered fragile. "Why do women consider themselves as fragile? This is the problem. I can tell you that men are equally fragile," she said. She summarised that worshipping women is not giving respect to them. Instead, the acknowledgment that they are different is the respect they expect from their society and organisation.
 
In a fireside chat with Professor Deepa Mani, IPS officer Malini Agarwal made interesting revelations about her time at the training academy. Being the first woman IPS in Rajasthan, her experience with law enforcement, in the most crime-riddled areas of the state, made for an interesting conversation on dealing with diversity and inclusion in the workforce.
 
For the two panel discussions centred around 'Improving labour force participation of women in technology' and on 'Enhancing diversity and creating a more inclusive workplace,' women leaders and senior functionaries participated from Novartis, Dr. Reddy's Laboratories, Bank of America, Amazon and WE HUB, a Telangana-state run platform for women entrepreneurs.
 
Professor Deepa Mani rounded up the half-day event and thanked the speakers for their meaningful inputs and ideas to improve diversity & inclusion at the workplace. She said that she was hopeful that participants are taking back new ideas from this Summit and will be able to implement them in due course.