Women in science outshine at CGC Landran on national science day
10 Colleges collectively celebrate national science day at CGC Landran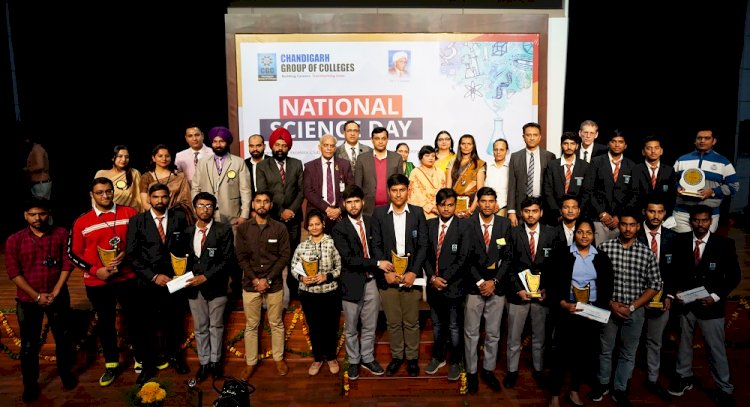 Chandigarh: Students from 10 colleges across the state of Punjab participated in the Inter-College Science Competition organised at Chandigarh Group of Colleges, Landran on the occasion of National Science Day with the vision to commemorate the contributions of Women in Science. The participating colleges were MCM DAV Collge, Chandigarh, Government College Sector 32, Chandigarh, Quest Group of Institutions, Chandigarh College of Engineering and Technology, Chandigarh University, Gharuan, Chandigarh Group of Colleges, Jhanjeri, Baba Banda Singh Bahadur Engineering College,  to name a few. 
With more than 250 internal and external projects on display by the students that exhibited novel ideas in the sphere of science including those on curbing disabilities and environment conservation, over 110 were presented by girl students. This is the perfect manifestation of the fact that how well women are performing in this field. Poster-making competition, declamations and quizzes also formed the part of the event. 
"It's certainly a great opportunity to see such extremely innovative projects being displayed by the undergraduate students here. Also, it's really intriguing to see the huge number of women who have participated and the issues that were being addressed by them which not only related to women but to all the people", said the International Guest Prof. Mark Noll from State University of New York, US. Besides him, Chief Guest Ms. Rajesh Kumari , Scientist, from Terminal Ballistics Research Laboratory, Defence Research and Development Organisation and Guest of Honor Dr. Suman Singh, Principal Scientist CSIO & Judges also appreciated the efforts of the students. 
The event also witnessed a cultural fiesta where the students of the host college i.e CGC Landran enacted a skit debunking numerous superstitions that are prevalent in the society with the logical scientific explanation. An out-of-the ordinary fashion show 'Fashience' was also organised which was set on the theme of Fashion and Science. This was followed by an array of musical and dance performances. 
Satnam Singh Sandhu , Chairman CGC Landran and Rashpal Singh Dhaliwal, President CGC Landran extended their warm regards to the guests and thoroughly acknowledged the project ideas of the participants.