Withdraw all cases of crime against Swami Ramdev: Shanta Kumar
Says it is an insult to crores of Indians like him to make a great man like Swami Ramdev stand guilty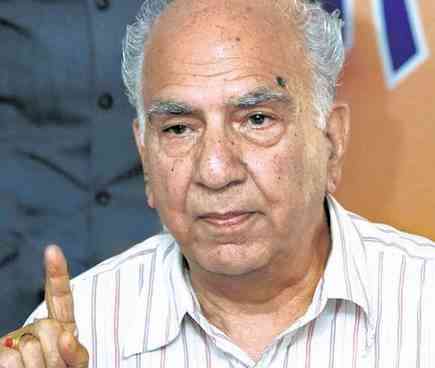 Senior BJP leader Shanta Kumar.
Dharamshala: Bharatiya Janata Party leader and former Chief Minister of Himachal Pradesh, Shanta Kumar has written a letter to Ayush Minister Shripad Naik, Government of India, urging the Minister to withdraw all cases of crime against Swami Ramdev.
In his letter, Shanta Kumar expressed grief over the reasons for not completing certain formalities and some particular word usage. Due to the mistake, Swami Ramdev has been considered a culprit. He said, "Even today, millions of corona patients are recovering only because of their body's resistance. The medicine of such power was prepared by Patanjali. "Regarding the use of some words he said that this kind of mistake of words has been committed  by many  leaders a number of  times.
He said that Swami Ramdev is a historical legends of this era, who took yoga at door step of every one, which was otherwise  confined in some ashrams for thousands of years, hence due to the efforts of the respected Prime Minister Narendra Modi, the International Yoga Day was declared for 21 June each year.
Shanta Kumar said that Mahatma Gandhi dreamed of Swadeshi, burnt foreign goods. Gandhiji left the world and after that many governments have come and gone, the dream has not been fulfilled. The loot of foreign companies kept on and even increased.
"A lone Sadhu fulfilled Gandhiji's dream even without government assistance. Stopped the loot of foreign companies. Not only this, through the sale of Patanjali products, lakhs of unemployed people were given employment", added Shanta Kumar.
He said, "It is an insult to crores of Indians like me to make a great man like Swami Ramdev stand guilty. When I remember all this, I bow to Swami Ramdev and Acharya Balakrishna."
In this regard, he has urged the Ayush Minister that all cases of crime against Swami Ramdev ji should be taken back with due respect.