With 7 cr-plus tourists visiting in 2022, it's been a joyride for tourism sector
The Kashi Vishwanath Corridor is leaving a distinct mark due to the rapidly developing facilities under it, emerging as a top choice for tourists.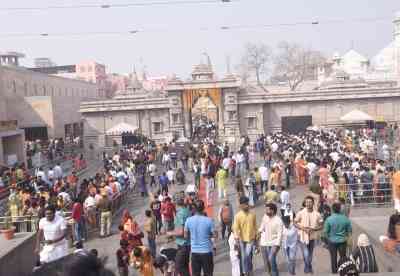 Source: IANS


VIVEK TRIPATHI
Varanasi, April 9 (IANS) The Kashi Vishwanath Corridor is leaving a distinct mark due to the rapidly developing facilities under it, emerging as a top choice for tourists.
Since the corridor's completion, the tourism industry in Uttar Pradesh's Varanasi has taken a huge leap. Several sectors along with religious tourism are flourishing.
Experts say that the corridor is proving to be a jackpot for the tourism industry. As per data, around 20-30 lakh tourists have been visiting the city every month.
Gokul Sharma, president of the Banaras Hotel Association, said that pilgrims are coming here from all over the country since the corridor's inauguration.
He said that around one lakh pilgrims reach the temple every day, the number doubles on holidays.
Sharma stated that the corridor has ensured employment opportunities for many. Earlier, while only one five star hotel - Taj - was present, around 1200 big and small hotels are registered now.
Other institutions also have guest houses and other commercial places to stay, he said.
Sharma added that only Indians have been visiting the temple as of now, but the number will increase as foreigners start coming. Their arrival will also help businesses gain further momentum.
Santosh Kumar Singh, a member of the Varanasi Tourism Guild and treasurer of the Tourism Welfare Association (TWA), said that domestic tourism has also grown a lot after the corridor's construction.
Singh stated that more than 2500 small, big hotels and guest houses remain fully occupied. Earlier the number of tourists would lessen from April to September and hotel revenues would fall. For the first time, hotel rates are high in April as well.
Anil Tripathi, joint secretary of the Varanasi Tourism Guild, said that people's inclination towards spirituality has increased after the Covid-19 pandemic. These days, hotels are booked for at least 15 days every month.
TWA president Rahul Mehta stated that Kashi is a city of culture and spirituality. The increased facilities and the Kashi Vishwanath Dham are wooing visitors. Apart from the hotel sector, the handicrafts and saree industries have also flourished.
Deputy Director of the Kashi Tourism Department, Rajendra Rawat stated that 7,11,47,310 (Seven crore eleven lakh forty seven thousand three hundred and ten) domestic and 83,741 foreign tourists reached Varanasi in 2022.
As per an economic survey conducted by the DAV PG college, apart from those engaged in business, the income of people associated with the tourism sector has increased by 20-65 per cent, Rawat said.
Satyadev Singh, principal of DAV PG College, informed that after the corridor's construction, a survey conducted by Dr Parul and Siddharth revealed that the income of hotel owners has increased by 65 per cent, the income of shopkeepers by 47 per cent and those of e-rickshaw drivers by 30 per cent.
The lowest increase in income is estimated to be of taxi drivers, at 20 per cent.
The report also showed that 98.48 per cent believe that employment opportunities have been created in the city.
The survey stated that there was a 34.18 per cent increase in employment in the tourism sector alone. Apart from this, 99.53 per cent people agreed that there has been a vast improvement in the city's infrastructure.