Wings India -2022, Asia's largest Civil Aviation Show
Preparatory Meeting of Wings India 2022 held at Begumpet Airport, Hyderabad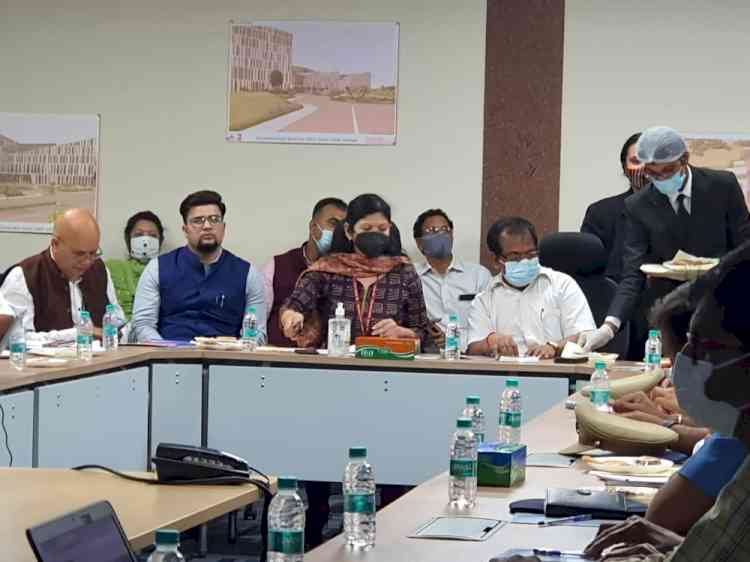 Smt Usha Padhee, Joint Secretary, Ministry of Civil Aviation reviews arrangements for Wings India-2022.


Hyderabad, March 9, 2022: A preparatory meeting to discuss the matters related to the organization of Wings India 2022 event held on Tuesday till late evening under the chairpersonship of Smt Usha Padhee, Joint Secretary, Ministry of Civil Aviation at Begumpet Airport along with officials of Telangana Government, AAI and FICCI.
The meeting was also attended by the officials from various departments/ authorities involved in facilitation of infrastructure, law and order and other services such as Police, Traffic, Fire, CISF, GHMC, Bureau of Immigration, Customs, BCAS, Air India, GMR, Water department, municipality, energy department, APHO, disaster management, Bird group, AIESL, Telangana State Aviation academy, Indian oil and others.
FICCI briefed the attendees regarding the overwhelming response received for Wings India 2022 and elucidated the execution plans pertaining to the various activities for the event. It was apprised that over 125 international & domestic exhibitors have confirmed the participation along with 11 hospitality chalets, 15+ country delegations and 25+ States & UT's. Participation of Global Ministers and Industry captains at the Global Aviation Summit reckons the exciting proposition the event hold.
Sarang team of Air Force will be adding glory by their aerobatics at the show.
Wings is expecting a profuse attendee footfall and adequate measures were discussed with the agencies present. It was conveyed that only fully vaccinated delegates will be allowed to participate at the event and proper health screening shall be implemented.
The event will be scheduled between March 24 -27, 2022 with first two days being the business days and rest for general public.
The elaborated discussions were fruitful in chalking out the measures to be undertaken ensuring a seamless organisation of the event.