Whether or not Valentine Day be celebrated in India?
Expressions Club organised discussion at GGN Khalsa College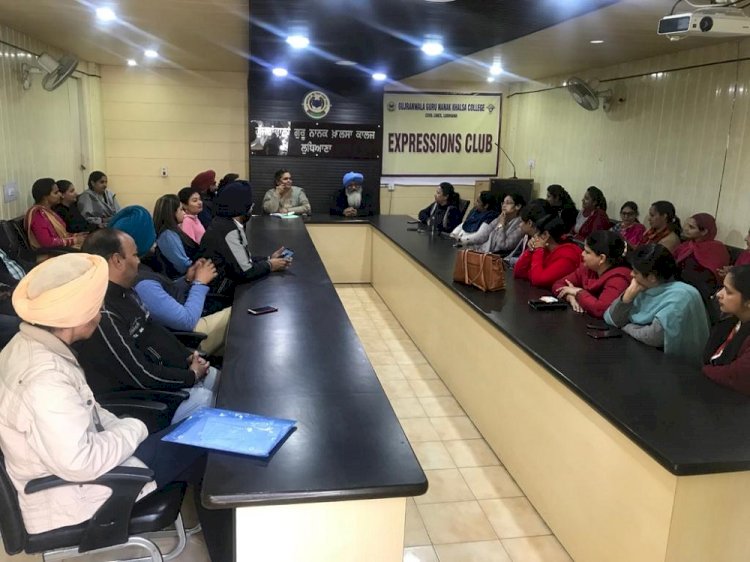 Ludhiana: Expressions Club of GGN Khalsa College organised a discussion for the faculty members on the celebration of Valentine's Day with the topic "Whether it should be celebrated or not in India". It was a part of weekly activity being organised for the faculty members of various departments in the college. The discussion was carried out under the aegis of Professor Rajinder Malhotra, Head of Hindi Department with support of Head of English department, Dr Sushminderjeet Kaur. 
A healthy discussion took place on the topic among the faculty members. Few were in the favour of its celebration with the changing times while others were against it keeping in traditional values of Indian culture and traditions. They said that in routine no one is able to find any special time for their loved ones but on this day they can bring out some quality time to make their loved ones feel special like they on Mother's and Father's Day. 
Faculty members said that if they guide the students well about the history and value of Valentine's Day, then they can help the youth of tomorrow to celebrate this day in a right manner by keeping their cultural values intact. As it's the moral responsibility of teachers to make students aware about the changing scenario. Members said that there is no harm in adopting the good festivals of any culture as now they are growing as a global village. Though few members said that such days are misguiding the youth in India and taking them away from their roots. Last but not the least outcome of the discussion was that it is the choice of an individual whether to celebrate this or not as no one can impose anytime on anyone. 
The teachers who actively participated in the discussion were Dr Paramjeet  Singh, Dr Rishu Jain, Dr Anupriya, Professor Ramandeep Kaur, Professor Munisha, Dr Deepak Walia, Professor Gurpreet Singh, Dr Gurpreet Singh, Professor Balkar Singh, Dr Arvinder Kaur, Dr Mandeep Kaur, Dr Bhupinderjeet Kaur, Dr Hargunjot Kaur, Professor Harjinder Singh, Assistant Professor Nidhi, Professor Asha Rani etc.