We'll see Lord Vishnu bring out Garud's full potential in Samudra Manthan: Vishal Karwal 
Vishal is portraying Lord Vishnu in Sony SAB's Dharm Yoddha Garud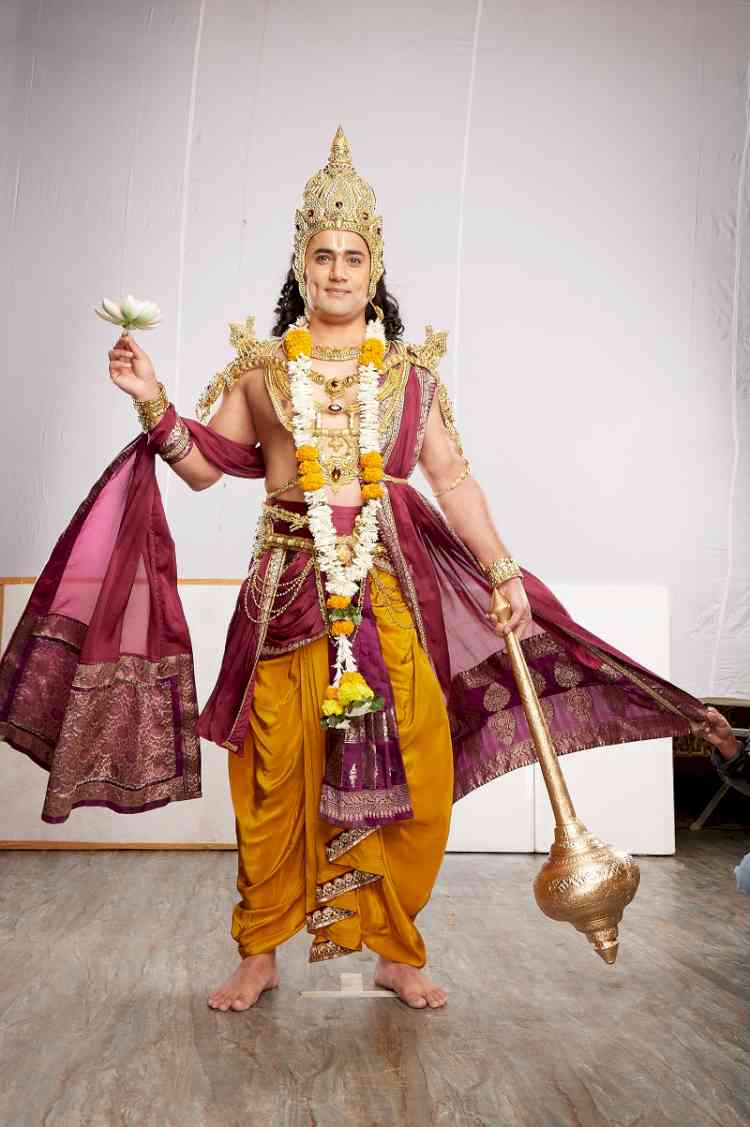 Vishal Karwal as Lord Vishnu in Sony SAB's Dharm Yoddha Garud.


•    Since you have played the role of Lord Vishnu before, what made you take on this role in Garud?
o    I consider it a blessing to be approached for parts such as Lord Krishna, Rama, or Vishnu on programs like Garud, and to play mythical characters often. In terms of Garud, I think they do a fantastic job with the graphics and VFX; it's really realistic, and it's also one of the first series based on Garud, so I'm excited to be a part of it.
o    How has your experience been so far, playing the role of Vishnu in this show?
o    So far, it's been fantastic. I work with a strong sense of conviction and I'm prone to being entirely immersed in the roles I perform. That's also because I love playing this character and the story is extremely interesting. So far, working for Garud has been a lot of fun.
o    What is the significance of Lord Vishnu in Sony SAB's Dharm Yoddha Garud's upcoming Samundra Manthan track?
o    I feel whenever Lord Vishnu is on-screen he is one of the primary characters and plays a significant part in the track. When the Devtas contemplated other options rather than forming an alliance with the Asuras, it was Lord Vishnu who advised them to join hands with him and yet trick them in the end. Lord Vishnu is known as "The Preserver" and he assures the Lords that in the end, the pot of nectar will be with them. He has a big role in this grand mythological event and in the upcoming episodes, the audience will witness how Lord Vishnu leads the troops and finally attain the Amrit. The way we have shot the track so far was so interesting for us that I'm very sure the audience will love it too.
o    Is there anything memorable from the shoot of the Samudra Manthan track that you'd like to share?
o    I've shot most of my sequences alone, and I'm too absorbed in the process to recollect anything memorable. The entire experience on the sets only has been memorable and the team very fun to work with.
o    Samudra Manthan is a well-known event in Indian mythology; which aspect of it do you think will catch the audience's attention in this show?
o    Samudra Manthan is churning the Ocean of Milk in pursuit of Amrit, the elixir of immortality, and the entire occurrence is highly interesting and entertaining, from the way they planned the churning to the treasures that came out of the ocean during it and the way the story unfolds. As a result, I believe the entire track will be a hit with the audience.
o    Do you have any personal takeaways from the mythological event of Samudra Manthan?
o    The lessons in this track have a profound impact on our personalities and lead to a positive shift in how we view our life. It's been the same for me, and these lessons will stick with me for the rest of my life.
o    According to Indian mythology, Lord Vishnu saved Vinta and Garud in their hour of need; what are your thoughts on this? 
o    Vinta has always been a devout believer of Lord Vishnu, and Garud has absorbed her beliefs. Garud also believes that rescuing his mother from slavery is his life's mission. Lord Vishnu recognises Garud's potential for much more and assigns him duties and advice to help him realise his full potential. He is an enabler and a guide in Garud's life and as the episodes unfold, the audience will witness how Garud finally became Lord Vishnu's charioteer.
o    Which Indian mythological character do you most admire and want to play in the future?
o    That would be Krishna as he is an all-rounder. He is a fearless warrior, as well as a wise teacher, a caring friend, and a loyal lover. He has a huge history and impact on our lives because of his versatile and wise personality that you can't help but love. Thankfully, I was given the opportunity to play the character, for which I am quite grateful.
o    How has your experience been working on the Garud sets thus far, and with whom do you get along best?
o    As previously stated, I shot most of my parts solo, so I didn't get any interaction with the rest of the cast. However, everyone on the sets is amazing, and the entire unit is fantastic. I have met Faisal, and he is a wonderful person.
o    What message would you like to convey to your fans?
o    The Samudra Manthan track is going to be a blast of entertainment, so, I request the viewers to keep their eyes glued to their screens. Also thank you for all your love and support and please continue to do so in the future.