Well known tv journalist Barkha Dutta addresses FLO members on changing nature of Indian media
I oppose CAA and NRC because of religious filters attached to them: Barkha Dutt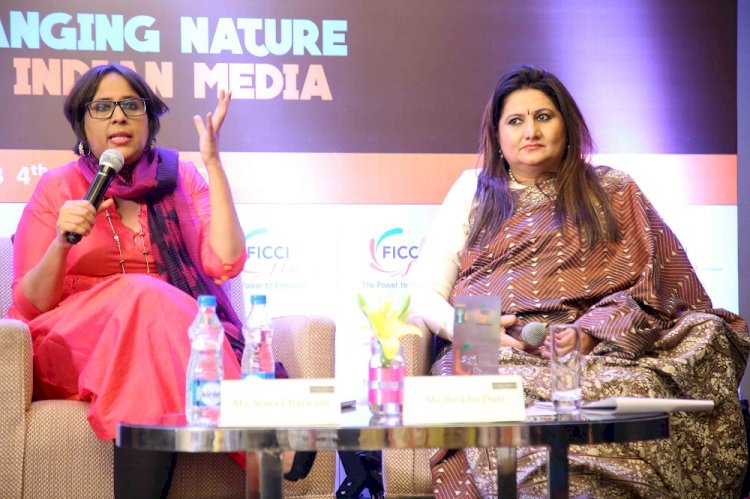 Barkha Dutt, well known broadcom journalist & Sona Chatwani, Chairperson of FLO Hyderabad seen at a talk on 'Changing Nature Of Indian Media' by FICCI FLO Hyderabad.
Hyderabad: Well known Indian Television Journalist, Author, Columnist Barkha Dutt was in the city at the invitation of  FICCI Ladies Organization (FLO)m Hyderabad Chapter. She was invited to address 200 plus member of FLO Hyderabad Chapter "Changing Nature of Indian Media" .
 
Prior to her interaction with FLO Hyderabad Chapter members, she interacted with the media.
 
Addressing the media when asked about Elections in Delhi and what are predictions, replying to question she said, one thing I learnt with over twenty years of experience in Journalism is never to predict elections. It looks like Kejriwal has an advantage. People vote differently in state and central elections. On these lines also,  Kejriwal seems to have an advantage, she said
 
Giving her views on CAA and NRC, the veteran journalist said, "I am against putting religious filters. NRC is actually weaponising the CAA", she said
 
I am not India's first war journalist is being ciruculated. In fact my mother Prabha Dutt is. During her time there were no jobs for women in Journalism. She first started reporting crime and ended up as a war journalist, she shared. My mother influenced who I become, she added.
 
I was on a peak of a mountain in my broadcast journalism career. Now I shifted to Online space. As an online media venture, I am now building a new mountain. Many broadcast veteran journalists Karan Thapar, Vikram Chandra have shifted to this space.
 
Time has come to pay to read articles on online space. Washington Post and New York Times are already doing this Barkha shared while describing how media houses on going through financial crisis.
 
Speaking about electronic media in India, Barkha said, it is going through the darkest face. The space for reporting is shrunk. Media houses are exhausted on ideas on making money to survive. Nobody is willing to pay to watch news., she added
 
There is no money in the news media. The news media is in crisis now, she said.
 
Children need to be taught about media. Media literacy must be made part of curriculum. Because media is powerful, children should be able to judge media from wrong influences. There should be a class in the school which must show a news program upon which students need to debate to get to understand how media works,  Barkha explained.
 
My first book The Unquiet Land is doing well. I am coming out with ananother book on "Failures of the Opposition Parties in India". This book will be out this year, she shared.
 
She rubbished tukde, tukde narratives being propagated. Dissenting opinion is described now as anti national, which is very sad she added
 
Rajdeep and me are good friends. Though we three including Arnab worked together, I don't have any connections with him now, she shared.
 
In India today some are manufacturing TV narratives of patriotism, Barkha said.
 
She told the gathering as well as budding journalists to take advantage of technology to tell their side of the stories. Speaking about protests in Delhi by women, she said when women raise voice governments listen. At the same when men protest, governments use force. So more and more women must come out to raise their voice against anything that they feel strong about it, Barkha said.
 
Talking about her entry into politics, it was true that at one point of time I want to take a plunge. But, after close watch of certain developments and loosing of freedom I went back on it she shared.
 
Barkha told women gathering at the FLO interaction to find some ways to live their passion.
 
Giving her opening remarks at the press conference and later at the session, Sona Chatwani, Chairperson of FLO Hyderabad said, the Media Canvass in India is changing rapidly. The industry is confronted with many challenges such as Credibility, Fake News, Speed, Technology, Digitisation,  Disruption, Armchair Reporting, Paid News menace and many more.  The breaking news has become big farce.  The trust factor has vanished.  There is no more news, it is only views.  Journalism is no more a service, it is a business today.  There is a race for TRPs.
 
Particularly, Indian television industry is undergoing a seismic shift. They have operational, technological challenges.  The pace at which the technological changes are taking place, that finding the right balance between addressing today's daily operational challenges and planning for the next big thing can be a struggle. There is an urge for fresh and original content.
 
Today's generation want to catch-up TV on a laptop, download a phone app on the move engage with content on a tablet. They want to consume news digitally while on the move.
 
 They want different experiences on each platform. They want original content and content of different falvours. Original content is the king. Within the original content Video content is the king.   They want it all on their personal schedules. The appetite of the viewers is increasing and people are not satisfied with the conventional broadcasting only. Broadcasters need to provide their content on all possible carriage ways. New media including IPTV, mobile TV, YouTube, and the like, would complement traditional broadcasting.
 
Today millennials in other words also known as screenagers, have a lot of options.  They want to consume news on the go.  Youtube is challenging Television. It is emerging a TV.  We want to learn from the expert the industry, its trends and what is in store for us, she said.
 
 
 
Brakha;s gutsy coverage made her a household name especially women.  Today's topic is a most significant to all of us today.Speaking on the initiatives of FLO, Sona Chatwani informed that the initiative of skilling and training of economically backgward and marginalized women of Dhoolpet Community is paying rich dividends. The erstwhile toddy sellers without any skills and exposure are now standing on their own feet. We trained them in Pickle making.  They are slowly emerging as grassroot entrepreneurs, looking to work outside, sell or work from homes, start small catering services.
 
Our efforts, adds Sona Chatwani, in Phase 1 has been successful as 32 ladies from this community were trained in pickle making and given opportunities to sell through FLO orders. We connected them to supermarkets, they were given a stall in StyleTatva, FLO Hyderabad's signature exhibition. 15 of them received microloans from banks, while some others have been shortlisted to receive loans. During the last month we categorized 158 enthusiastic women into 7 groups and their training kick started on the 1st of this month as scheduled in the areas of Cooking, Computer basics, Beauty, Mehendi application and others. Coconut carts were gifted to two women who were also trained to handle the serving of coconuts. 54 ladies are also being taught the skill of jute bag making. The machines for the same have been purchased and training will star this week, she added.
 
FLO is  invited to participate in Bio Asia 2020 by the Telangana Govt. including a special invitation to the global women leaders session, "Women in Life Sciences, Health and Tech: Journey from Aspire to Inspire". Later in the month, we are supporting a conference the business of sustainable luxury handicrafts organised by Craft Stories under the Mango Tree, Sona shared.
 
The big questions we have in our mind are can the digital revolution save Indian journalism? What is to be done to restore that public trust in Journalism? What is the role of public in countering the fake news menace? What can we do to it make Journalism work for the social good like in the past especially during the Indian freedom struggle? And we want to find answers from this session, Sona Chatwani stated.