Welcomhotel Bella Vista unveils extra safe '5 Star Recipe Kits'
Even non-cooks can now spring up delicious meals in 5 minutes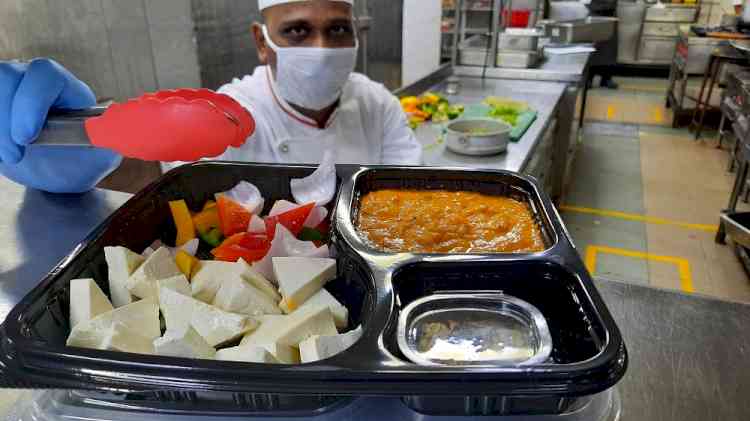 Executive Chef Manohar Reny Duddi showcasing the '5 Star Recipe Kit'.
Panchkula: The simple pleasure of having your favourite cuisine at a restaurant you love has now become a thing of the past. In an endeavour to remove all fear from the minds of food aficionados, a food delivery innovation - '5 Star Recipe Kits', has been unveiled by Welcomhotel Bella Vista, Sector 5, Panchkula.
As far as the '5 Star Recipe Kits' are concerned the concept aims at providing safe & nutritious 'hotel-style meals' right to the customer's platter.

Manohar Reny Duddi, Executive Chef explains, "'5 Star Recipe Kits' has been launched in a vegetarian avatar. These contain fresh ingredients- vegetables & cheese (paneer) cubes according to the recipe, exotic spice blends for tempering, and our delectable signature gravies, in a neatly packed box. The vegetables are both in raw or blanched form as the recipe demands, and all the vegetables are properly sanitized and UV treated. The tempering too is UV treated. As far as the signature gravies are concerned, these are fully cooked at over 85 degrees temperature."

Adds Duddi, "With '5 Star Recipe Kits' we have tried to simplify cooking inside home kitchens so that even non-cooks can make surprisingly lip-smacking meals for the family. The cooking time of approximately 5 minutes makes the kit very convenient and makes the meals fully safe. With the kit comes a slick 'recipe video guide' on the customer's 'What's App' number, to help him or her achieve cooking perfection."

On the '5 Star Kits' Mr. Vivek Khanna General Manager adds, "There are around 12 vegetarian dishes we are delivering."
Mr. Khanna also added that 'We Assure' - a first-of-its-kind initiative on health, hygiene & safety is also being implemented at WelcomHotel Bella Vista to give guests and visitors a hospitality experience which is completely safe.