Webinar on "translational animal experimentation" 
The key note speaker, Prof PK Seth, Former Director Indian Institute of Toxicology Research, Lucknow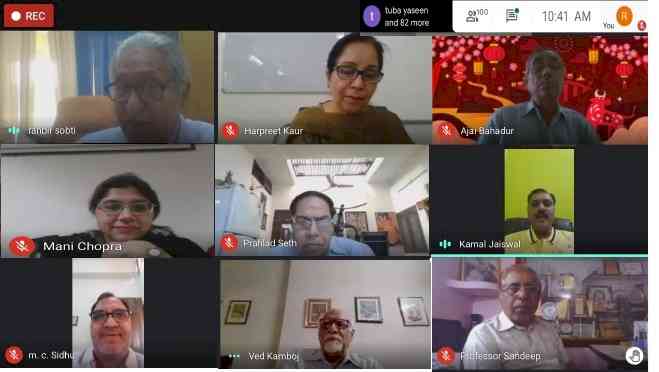 Chandigarh: Department of Zoology, Panjab University, Chandigarh, in collaboration with Chandigarh Chapter of Indian Science Congress, Chandigarh Forum for Science & Technology Communication and Punjab Academy of Sciences organized a webinar on "Translational Animal Experimentation" today. 
    The event was presided by Prof. RC Sobti Former Vice chancellor, Panjab University and Babasaheb Bhimrao Ambedkar University Lucknow. 
    Prof. Harpreet Kaur, Department of Zoology, welcomed the guests and introduced the theme of the webinar. 
    Prof Kamal Jaiswal, Sectional President of Animal Sciences, Indian Science Congress expressed that the topic of the webinar is very much relevant to the Covid-19 Pandemic situation and ongoing biological researches in the field. 
    Prof VP Kamboj, Former Director Central Drug Research Institute (CDRI), Lucknow emphasized on the importance of various animal models in biosciences and drug discovery. 
    The key note speaker, Prof PK Seth, Former Director Indian Institute of Toxicology Research, Lucknow highlighted the prevalence, risk factors and role of in-silico biomarkers in diagnosing various neurological disorders. The session was followed by invited talks. 
    Dr Ajai Bahadur, Former Head, Dept. of Zoology, Shia PG College, Lucknow shed light on the evolution of circulatory system in animals. Prof. Sandeep Malhotra, Dept. of Zoology, University of Allahabad delivered a talk on "Infection against infection during Covid-19 pandemic." 
    The event was summarized and vote of thanks was delivered by Prof MC Sidhu, department of Botany, PU and member of Chandigarh Chapter of Indian Science congress.
BRIEFS 
PU EXTENDS DATE FOR INPUTS FROM STAKEHOLDERS 
Chandigarh: Panjab University, Chandigarh has extended the date for inviting inputs from all stakeholders till 26th March 2021 for its designated portal, informed Sh. Vikram Nayyar, officiating Registrar and Member Secretary, of the Committee constituted for PU Governance Reforms. The same can be accessed through the link: pugovernancereforms.puchd.ac.in.
    
PU URGES EMPLOYEES TO FOLLOW COVID PROTOCOLS
Chandigarh: In the wake of recent spike in Covid-19 cases observed in the city, Panjab University, Chandigarh has issued instructions for all the employees to follow strictly, the prescribed Covid-19 protocols to prevent the spread of highly infectious disease, informed Sh. Vikram Nayyar, officiating Registrar, PU. It is further advised that all the staff members must wear face masks properly, frequent hand sanitization/washing, maintaining appropriate physical distancing and other prescribed protocols strictly.