Webinar on topic "covid-19 and animals: myth debunked with facts" 
More than 110 participants actively participated in the interactive session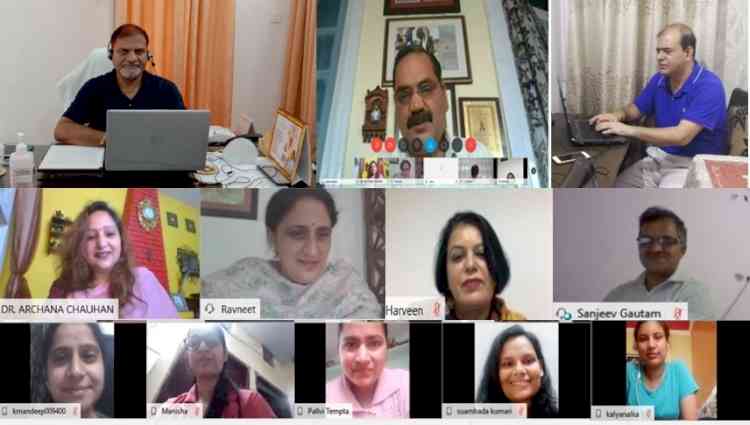 Chandigarh: A webinar on the topic "Covid-19 and Animals: Myth debunked with facts" was organized by wardens Dr. Varinder Negi (BH2), Dr. Sanjeev Gautam (BH3), Dr. Archana Chauhan (GH10), Dr. Ravneet Kaur (GH3), Dr. Harveen Kaur (IH). The webinar was an effort to know the facts and clear out the misconceptions about COVID-19 and its relation with animals. Dr. Omesh Kumar Bharti, an Epidemiologist by profession and recipient of Padma Shri, an internationally acclaimed scientist recognized for his great contribution towards developing alternate and affordable treatment of the RABID dog bites; was the speaker on this occasion.
Panjab University Vice chancellor Prof. Raj Kumar in his opening remarks urged the students to be safe and ensured that all the decisions about examinations will be made keeping in view the welfare as well as the safety of the students.
Following this, Dr. Bharti briefly gave the general information about the symptoms and transmission of the coronavirus. He suggested that we should boost our immunity by taking healthy diet supplemented with Vitamins especially Vit D and warned to be aware about the myths and misinformation being circulated. The session was very interactive and students posed several queries explaining their doubts abouts the link between coronavirus and animals. He clarified that it's true that although coronavirus is a zoonotic virus that lives inside the animals but it does not cause disease to them. It afflicts humans when transmitted through unsanitary means.  So, sanitization is the prerequisite. He clarified that the virus does not spread through mosquito bites and water treatment methods ensure elimination of the viruses including COVID-19. He further clarified that not all Bats harbor coronavirus do we stop being cruel towards them. The take home message is that nature harbors several pathogens and if we disturb the environmental balance, pathogens are going to take an advantage of it and we will see many more pandemics.  So, we must focus on saving the environment. The tips provided by Dr. Bharti were well taken and audience kept on congratulating him for his talk in the chat box. More than 110 participants actively participated in the interactive session with lot of queries coming from the students and faculty.