Webinar on theme employability of Indian Youth and Career Opportunities organised 
Placement and Guidance Cell of USOL, Panjab University organised the event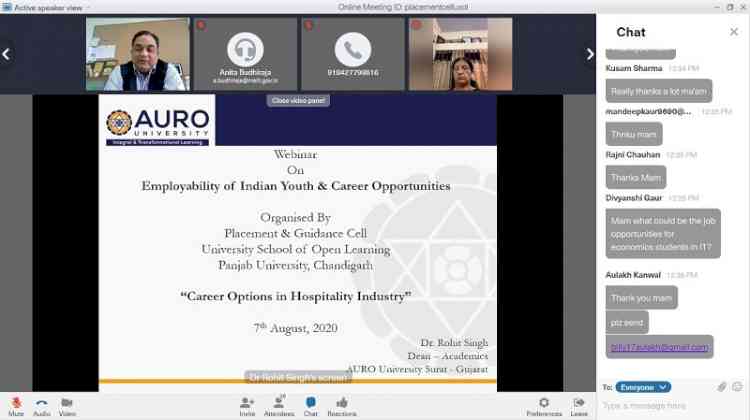 Chandigarh: A webinar on the theme Employability of Indian Youth and Career Opportunities was organised by the Placement and Guidance Cell of USOL, Panjab University on 7th of August at 11 am with 200  attendees. Prof Harsh Gandhar, convener of the cell introduced the theme. 

The Chairperson of USOL, Prof Madhurima Mahajan welcomed the guests .The event began with the presentation of  Dr Shad Ahmed Khan from University of Buraimi, Oman on Foreign Employment : Planning, Considerations and Opportunities especially in the West Asia

The second presentation of Dr Anita Bhudhiraja, Joint Director National Institute of Electronics and Information Technology, Ropar Campus and an alumna of Deptt of Economics USOL 1991  batch focussed on plethora of career options of non technical nature  and  various short courses for skill upgradation in the field of information technology. 

The third resource person Prof Rohit Singh, Dean Academics Auro University and a student of  Vice  Chancellor ,PU Prof Raj Kumar enlightened the student audience about the expanse of activities and subsectors of hospitality sector. He highlighted innovative ways of entering the sector and different short term certificate and diploma courses available 

Mr Sucha Singh moderate d the Question Answer session. The session ended with Vote of thanks proposed by Prof Neeru of Hindi Deptt. This being the first activity on virtual platform many students faced difficulty in joining. The faculty and students appreciated the efforts of the team.