Webinar on reflections and reassurances from textile crafts during and after covid-19
The webinar mainly talked of textiles and crafts in current scenario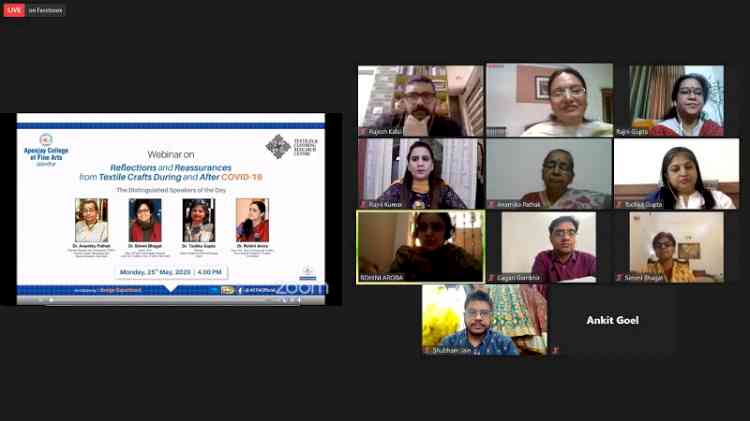 Jalandhar: The Department of Design of Apeejay College of Fine Arts, Jalandhar organized a Webinar on Reflections and Reassurances from Textile Crafts during and after COVID-19. As panelists and distinguished speakers, the session was joined and enhanced by Dr Anamica Pathak, Dr Simmy Bhagat, Dr Toolika Gupta and Dr Rohini Arora.
The webinar mainly talked of textiles and crafts in current scenario which is the second largest employed sector in the country. Discussion on the future plans, new parameters and innovations also took place.
Dr Anamika Pathak , Founder member and chairperson , TCRC, shared with the elite gathering about the artisans in the times of pandemic. She put forth that artisans have always been able to survive due to their skills and art which comes to them naturally. In fact during the challenging times they come up with new and innovative ideas. She also talked of the importance of History of Art which can give today's' artists some kind of inspiration and the yardsticks to set for their work.
Dr Simmy, Associate Professor at Lady Irwin College, New Delhi talked of the problems, the artisans are facing amidst the time of COVID- 19. She put forth that artisans are the proud of our nation but unfortunately they are suffering the most as they are not able to get raw materials to create their products. Mostly the artisan's work goes on the basis of cash flow and amidst this crisis; this has likely stopped since the orders are being cancelled and no exhibitions are taking place. She added government should give a thought to this and come up with independent finance for this community.
Dr Toolika ,Director, Indian Institute of Craft and Design, Jaipur put forth that artisans and designers These days can focus on inwards in order to produce something for the whole community. She added that there is lot from our history to learn. She added we need to combine craft, education and commercial aspects in order to make it successful on larger levels.
Dr Rohini Arora, Assistant Professor at Guru Gobind College for Women, Chandigarh talked of embroidery crafts. She put forth that right kind of raw material is the first step for the perfect embroidery. She also shared the techniques of embroidery from technical and structural to the decorative aspects of the embroidery which adds the element of realism and liveliness in the product. She added that some where the modern day's embroidery lacks the sharpened details which were there earlier. 
Principal Dr Sucharita Sharma heartily welcomed the empowered and thoughtful panelists. She said that the discussion was really innovative and the concerns and solutions put forth by our panelists are genuine and together being educationists, we can work over it. She also congratulated Department of Design for successfully conducting this informative webinar for the students.