Webinar on "National Voter's Day" organised by Mayank Foundation
Participants mostly students from various Schools and Colleges participated in this Webinar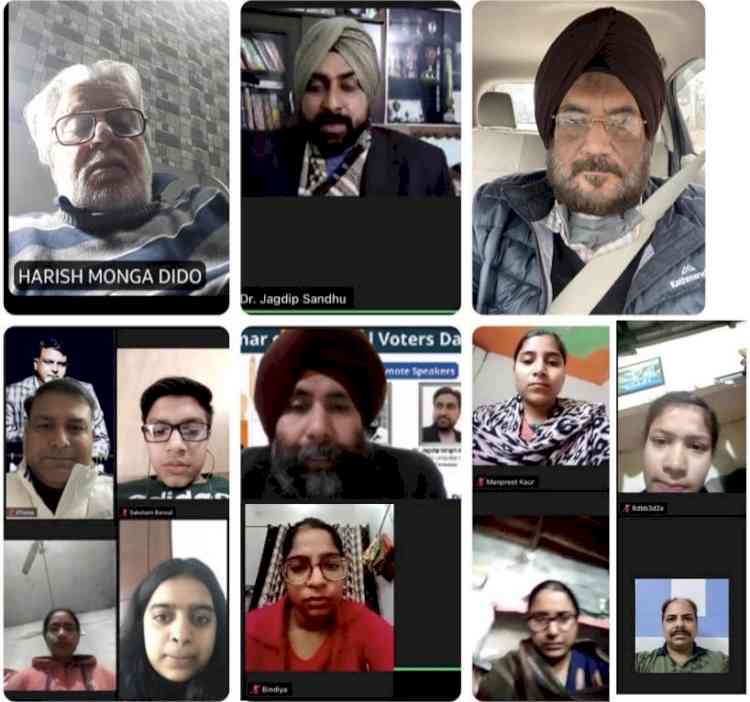 Ferozepur, January 25, 2022: Mayank Foundation celebrated 12th National Voter's Day by organising Webinar. Participants mostly students from various Schools and Colleges participated in this Webinar. Theme for this year's National Voter's Day is 'Making Elections Inclusive, Accessible and Participative' envisages focus on Election Commission of India's commitment to facilitate active participation of voters during the elections and to make the complete process hassle free and a memorable experience for all categories of voters. The day becomes more significant for us as Punjab is also going in for assembly elections on 20 Feb this year. 
Two knowledgeable and renowned personalities Dr. Jagdeep Singh Sandhu State Awardee and Prof Harjeshwar Pal Singh were resource persons for this Webinar. They enriched the participants with their vast field experience and service.
Dr. Jagdeep Singh Sandhu (District Language Officer, Ferozepur) shared very informative talk on Democracy Right and Power of Voting. He motivated the youth to use their most potent democratic right by electing Government of their own choice by casting vote.
Prof Harjeshwar Pal Singh, Lecturer talked on how to use our Democratic Right i..e Voting given by our Constitution. He talked about the purpose of the to celebrate National Voter's Day is to encourage, facilitate and maximise enrolment, especially for the new voters. 
Both these sessions were very interactive and enthused the interest of participants. Queries were also raised by participants. In the end pledge was administered virtually to all participants to promote democratic electoral participation.
Dr. Gazal Preet Arneja, was host of this Webnar. In concluding remarks he paid heartfelt thanks to both the resource persons.  He said that maximum participation of voters in democratic process is the key for formation of a good governance. He said that Mayank Foundation will work tirelessly to sensitizing the people, especially the youngsters to exercising their franchise in the elections. In the end Deepak Sharma President Mayank Foundation thanked all the participants for patient and attentive listening and participating and raising doubts after each session.