Webinar on media as profession and industry: a way forward
The panelists were of the view that multi-tasking is the way forward for industry driven media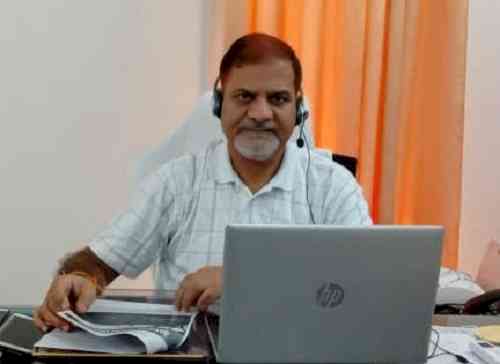 Chandigarh: School of Communication Studies, Panjab University Chandigarh organized a webinar on June 12 on the topic of Media as Profession and Industry: A way forward.
The panelists were Professor Raj Kumar, Vice Chancellor, Panjab University, Chandigarh, Professor Kuldip Agnihotri, Vice Chancellor, Central University, Professor, B.K. Kuthiala, Chairman of State Higher Education Council at Haryana, Professor MS Parmar, former Vice Chancellor, Kushabhau Thakare University of Journalism and Mass Communication at Raipur, Chattisgarh and Professor Sanjeev Bhanavat, head of Center for Mass Communication and Honorary Director, Center for Jain Studies at University of Rajasthan, Jaipur. 
Professor Sumedha Singh, Chairperson of School of Communication Studies welcomed the panelists. Professor Kumar inaugurated the webinar. In his inaugural address, he advised the youngsters to not panic but build confidence in such times of fear and anxiety where Covid-19 has caused disruptions. Prof. Agnihotri said, "Journalism has always been a mission and it was widely used during independence. Now, it has become a profession and an industry also." Similarly, he also discussed his views about the investors in media. He said, "Media is a very influential industry that affects our mind." Professor Bhanavat said, "It is a time of multi-tasking because digital readership has grown manifold. Similarly, many organizations have started to charge money for digitization. Now, we also have plenty of options and readers have become participative." He further said that the country needs talented youth to work in media platforms and creativity should be nurtured.
Prof. Parmar started his address by reading the Preamble to the constitution. He said, "There is more misuse than use of social media. The key is to devise good curriculum and use of language should be perfect and correct. You have to maintain professionalism as young journalism students." 
Professor Kuthiala laid emphasis on the change in the media industry where the focus is now on content and especially the content which is specifically for screen. He said, "The profit has turned into greed.  The number of people who can read, write, connect are maximum in today's time. There is passion and mission in journalism. Every corporate also has a mission. For this mission, we need good communicators. Content creators, distributors, sellers and evaluators are the need of the hour. Those who know the tricks of the trade, they are the managers of content."
Overall, the panelists were of the view that multi-tasking is the way forward for industry driven media. Prof Kuthiala said the department of Journalisms should identify the creative instincts in students and cultivate it. He laid emphasis on being multilingual and shared the benefits of being users of many languages. 
The questions were taken from the audience on diverse range of topics comprise of fake news and future of journalism after covid-19. Prof. Singh thanked all the panelists for their inputs.