Webinar on "Let's Startup" 
The event organized by BioNEST- Panjab University in collaboration with FITT, IIT-Delhi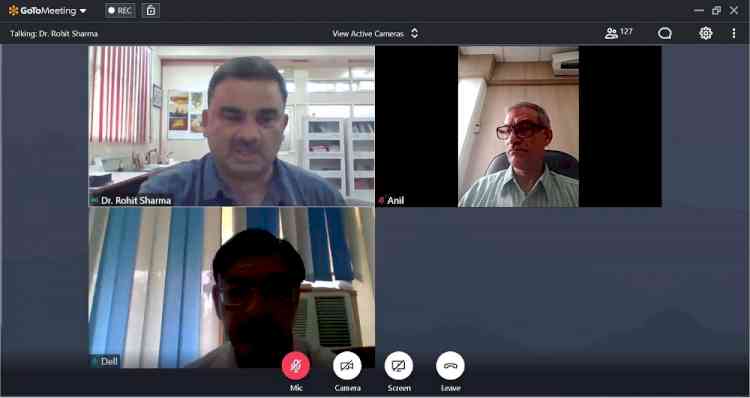 Chandigarh: The Bioincubator of the Panjab University, BioNEST-PU organized an online interactive session-cum-webinar entitled, "Let's Startup" today to enable young startups and researchers learn about opportunities for growth in the startup ecosystem. The speakers aimed at enumerating the opportunities in startup ecosystem available and aimed at leveraging the Incubation ecosystem and Funding opportunities for Technology-based Entrepreneursto help young innovators learn about the growth opportunities.

Dr. Ravinder Kumar Singla, Dean of University Instruction, Panjab University opened the webinar with encouraging words for all the innovators on-board to keep learning and growing through the medium of such webinars. He also highlighted how the Bioincubator of the University has been actively organizing this Webinar series in the past and will keep doing so in the future for adding value to the current knowledge base of existing startups as well. He also emphasized how the innovative projects and efforts of the incubator have led to Panjab University's second rank in ARIIA 2020 under the category of 'Govt. and Govt. Aided Universities'.

Dr. Rohit Sharma, the Project Leader of BioNEST-PU informed how their team had received a huge number of registrations for the webinar in just one day after it was announced online. "The webinar will make the audience become open to accepting the newer, more innovative avenues and will encourage them to become perfect job-providers rather than waiting for opportunities at such an uncertain time." Dr. Sharma said, students, researchers, innovators and faculty from not just the university, but from the neighboring institutes as well as educational institutes from all over the country attended the session and remained present online throughout.

The speaker for the webinar, Dr. Ashutosh Pastor is managing Startup Incubation at the Foundation for Innovation and Technology Transfer at Indian Institute of Technology Delhi. He is supporting implementation of various funding programs for innovators and entrepreneurs in the Biotechnology domain like BIRAC BIG, SEED, LEAP, Pfizer-IIT Delhi Innovation and IP program, and many other government and CSR funded programs.

Dr. Pastor highlighted the role of incubation for the growth of technology-based startups and how they can seek funding support from government and non-government sources. A Chartered Accountant by profession, Mr. Sandeep Gupta, in his enlightening presentation explained all the basics and compliances for students, educationists and all other innovators to register as a startup in India.

Mr. Hardeep Singh, a participant in the webinar and a B. Tech final year student shared how students today believe that they have no other options left than to go for college placements in order to have a stable future, and that the webinar has helped him and his team to realize how they can take this opportunity to go for their own startup and emerge as strong and independent entrepreneurs while working part-time with a commercial firm. Dr. Shailendra- a post-doctoral innovation fellow and yet another participant in the webinar shared how he got more clarity on whether to sell his patented technology or to start a business with it.