Webinar on importance of sports journalism
The Resource Person of the day was Nitin Sharma, Bureau Chief (Sports), Indian Express, Chandigarh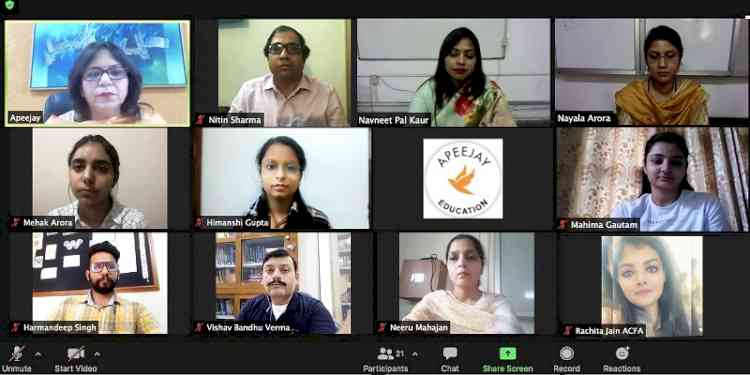 Jalandhar: The Department of Journalism and Mass Communication of Apeejay College of Fine Arts, Jalandhar organised a webinar on the importance of Sports Journalism. The Resource Person of the day was Mr. Nitin Sharma, Bureau Chief (Sports), Indian Express, Chandigarh and also alumnus of Apeejay College.
Principal Dr. Neerja Dhingra welcomed him warmly and put forth that it is a matter of great pride to see the students of our college touching great heights. To have our own students as Resource Person not just adds to our glory but it is also an inspiration for our current students.
Mr. Nitin Sharma who has demonstrated his excellent skills while covering Common Wealth Games 2010, ICC World Cup 2011 and Olympic Sports shared with the students that in today's time where reader has various platforms to acquire news, it becomes more challenging for the student of Journalism to establish his name in the field. So to mark their name, they should go ahead with Master Degree in Journalism and should develop their Soft Skills. He also advised them to go for as many internships as possible during the course in order to understand the real picture of Journalism.
The students from the Department of Journalism - Mehak, Himani, Surbhi and Mahima asked questions to which they got satisfactory responses.
On this occasion a humble tribute was paid to Mr. Rohit Sardana who was associated with Sports Journalism at National level. 
Principal Dr. Neerja Dhingra appreciated the efforts of Ms. Navneet and Ms. Nayala for successfully organising the webinar.