Webinar on essential oils and aroma mission
Organized by Lyallpur Khalsa College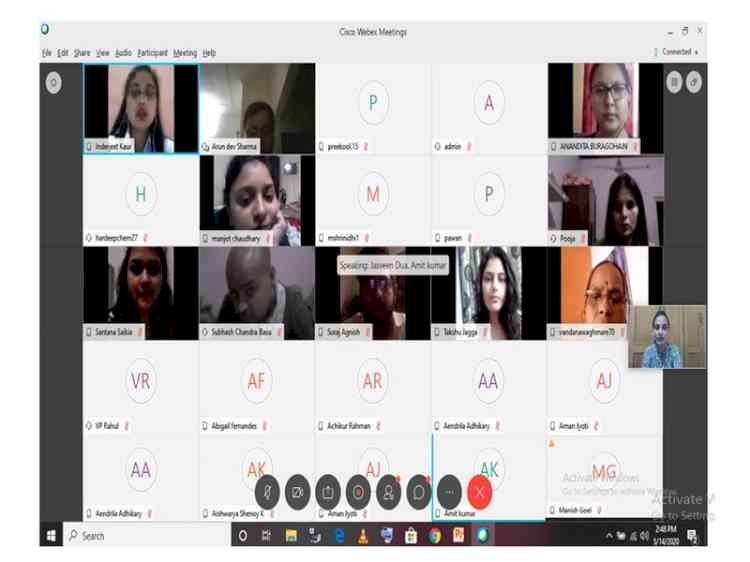 Jalandhar: One day National Seminar (Webinar) on 'Essential Oils and Aroma Mission' was organized by P.G. Department of Biotechnology, Lyallpur Khalsa College, Jalandhar, under the aegis of DST capacity building program. 
The resource person of the session was Dr. V.P. Rahul, Scientist at Genetic resources and Agro Technology Division, CSIR-IIIM Jammu, Jammu and Kashmir. In this webinar, more than 350 participants registered from different states of India. Dr. Arun Dev Sharma and Dr. Inderjeet Kaur Co-ordinators of the webinar welcomed Principal Dr. Gurpinder Singh Samra, resource person Dr. V.P. Rahul and the attendee. 
The session started with opening remarks by Dr. Arun Dev Sharma. Afterwards Dr. Samra addressed the participants and appealed to take full precautions regarding the safety measures as prescribed by Govt. and health department for a better welfare of the nation. He also proposed an idea to sign a MoU with CSIR-IIIM Jammu regarding the execution of training cum skill development programme under aroma mission for the welfare of society. Dr. V.P. Rahul talked about the major objectives and key outcomes of essential oils and aroma mission. He enlightened the participants with specific chemical characteristics features of different varieties of aromatic crops of IIM Jammu. Furthermore, he discussed about the agrotechnology to be implemented for the better cultivation of Ocimum canum, Mentha peperita crops.  
At the end, he focused on another concept of value addition of crops by citing an example of aroma value kit (lemongrass, mint, rosemary and lavender) developed by IIIM Jammu.  Afterwards, Dr. Arun throw light on how essential oils components act as a potential inhibitor of COVID-19. The session was concluded with n interactive question/answers session. The whole event was hosted by Dr. Inderjeet Kaur along with Prof. Navjot Kaur. Overall, the whole webinar was very informative and knowledgeable.