Webinar on English Language: A perfect springboard for great careers
The session was joined and enhanced by Jaideep Sarin and Inderjit Paintal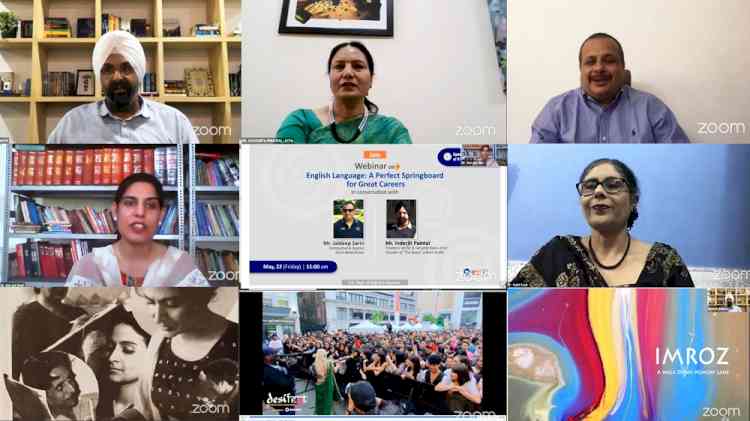 Jalandhar: The Department of English of Apeejay College of Fine Arts, Jalandhar organized a Webinar on English Language: A Perfect Springboard for Great Careers. As panelists, the session was joined and enhanced by Mr. Jaideep Sarin, a Distinguished and Dynamic Social Media Person and Mr. Inderjit Paintal, Freelace Writer and Versatile Radio Artist.
Principal Dr Sucharita Sharma welcomed both the panelists and shared with the students that English Language is the trademark of today's time and mastering this language undoubtedly opens infinite domains for them in which they can shape their careers.
Mr. Jaideep Sarine talking about the journalism shared with the students that curiosity, observational skills and good listening skills are the key to get successful in this sector. He also put forth journalism is different from the rest of the professions, here every new day has challenges and you need to prove yourself every single day. One cannot just survive on the basis of the accomplishments achieved earlier but with the rising sun everyday you have to look out and add something more to your credit. He also shared with the students that he loves travelling and travelling is another domain which gives an outlet to inner emotions which comes out in the form of stories. Talking of the perks of Journalism, he shared that the possibilities of meeting every kind of people from a roadside dwellers to ministers and Prime Minister and the experiences one has; it is the best thing in this sector.
Mr. Inderjit Paintal shared with his gathering about the creative writing skills. He put forth that art of storytelling dwells inside every human being. He added right from the childhood by bringing out an excuse why homework was not done to create an excuse before boss why you got late, all of us have these story telling skills in us. It's just that few people listen to that voice inside and hone it by working on it. Sharing his personal experience, he said he had pursued engineering and had worked too in the same domain but at the same time he did not overlook his voice inside which took him to writing and making various kinds of documentaries. Sharing the basics about Creative Writing Skills, he added listening to the inner voice, observing, capturing the inspiration right away in the moment and then shaping it in the correct manner are the key factors for it. By following these things, one will definitely improve over the time and can create their forte in this sector. He also added that if one has done master in English language, various career opportunities open for them. He added one can see their future in Journalism, Interpreter, Creative Writer, Blogger, Teaching, Educationist etc.
Dr Sunit Kaur, Vice Principal and Head of Department of English put forth that our students really had a good time to be the part of this session where both the experts in the field shared their valuable thoughts over the topic.
Principal Dr Sucharita Sharma congratulated Dr Navjot Deol for successfully conducting this informative webinar for the students.