Webinar on education, social equity and the coronavirus pandemic
Large number of participants from different parts of India attended the webinar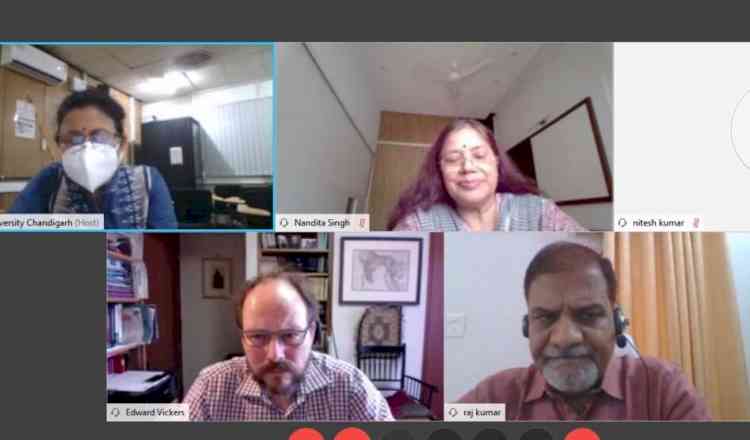 Chandigarh: Office of Dean International Students, Panjab University, under the patronage of Vice Chancellor Prof Raj Kumar organised a webinar on, "Education, Social Equity and the Coronavirus Pandemic" today.  
While inaugurating the webinar Prof Raj Kumar said Panjab University has architectural structures like Gandhi bhavan which are part of our cultural heritage and these need to be preserved and cherished for which dedicated  scholars and organisations can be roped in. A culture of appreciation where everyone takes pride in being part of this heritage needs to be cultivated. He further said that practitioners and administrators at higher education should be associated with the school education and it should be obligatory on their part to contribute meaningfully at primary education level. 
Main speaker of the webinar, Prof. Edward Vickers, a Professor of Comparative Education at Kyushu University, Japan  highlighted how the Neoliberal model of education which has created categories amongst students is intensifying social inequality and inequity. Digitisation and online learning have advantages as well as disadvantages. A balanced and judicious approach is needed to have a proper blend of conservative and information technology driven approach to education.
He has researched the history and politics of education in contemporary China and East Asia, and is co-author (with Zeng Xiaodong) of Education and Society in Post-Mao China (2017). He also has worked on museums, heritage and identity politics in East Asia, and his most recent book (co-edited with Mark Frost and Daniel Schumacher) is Remembering Asia's World War -II.
Large number of participants from different parts of India attended the webinar and took part in the interaction which followed after the talk.