Webinar on Calligraphy at UIFT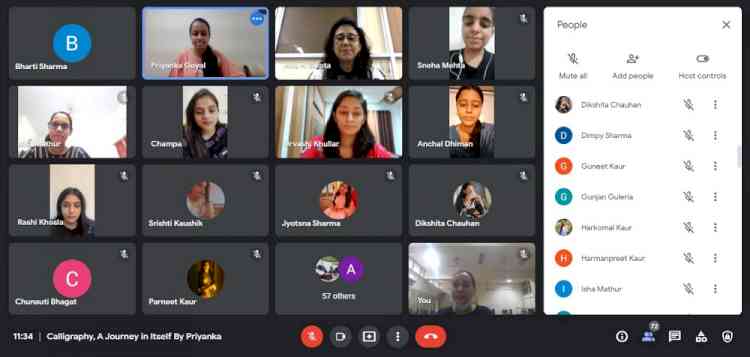 Chandigarh, October 5, 2021:
            University Institute of Fashion Technology & Vocational Development (UIFT & VD), Panjab University, Chandigarh organized a Webinar  on 'Calligraphy- A Journey in Itself' today.
            The webinar was conducted by Ms. Priyanka Goyal, who is the founder and Creative Lead at @PriyankaCalliDesigns. She spoke about Calligraphy and its evolution into the digital form. She stressed on the need to first understand Pen and Ink calligraphy and further venture  into digital calligraphy. She shared insights into topics like Typography, Lettering art. The Application of Calligraphy on various mediums was also discussed, for instance graphic design, fashion and branding. She practically illustrated some nuances of this Art form, especially as a print or any other surface ornamentation technique on garments and lifestyle products. 
            Dr Anu H. Gupta, Chairperson UIFT & VD also shared her views on the importance of learning this art form and its usage in fashion. The students also interacted with the speaker and asked questions regarding the career prospects in this field.
            Rashi a student of B.Sc 1st semester was quoted saying " It was amazing experience. I'm in complete awe of how beautiful the calligraphies were. And how effortlessly everything was explained. Honored to be a part of this for sure".
            Around 100 participants were a part of this webinar which included students of M.Sc. and B.Sc. Fashion and Lifestyle Technology, Alumni of UIFT and participants from other institutions.