Web lecture on "Environmental protection an inherent facet of sustainable development: with special reference to approach of Indian judiciary"
The programme started with a welcome by Prof Renu Thakur Coordinator ICSVS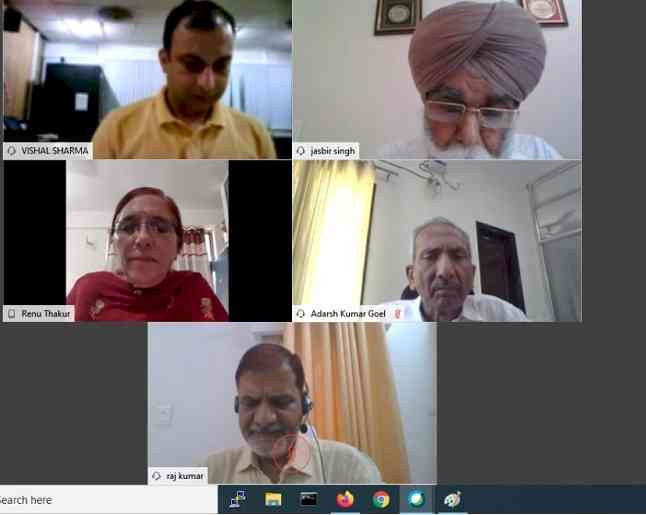 Chandigarh: The Centre for Swami Vivekananda Studies Panjab University Chandigarh organized a web lecture on the "Environmental Protection an Inherent Facet of Sustainable Development: With Special Reference to Approach of Indian Judiciary" by an eminent speaker Justice Adarsh Kumar Goel, former judge of the Supreme Court of India,Chairperson of the National Green Tribunal, New Delhi.
Justice Jasbir Singh, former acting Chief Justice Punjab and Haryana High Court Chandigarh and the Guest of Honour categorically stated that the environment does not need us but we need the environment, so let us join hands to save society by preserving the environment for sustainable development. We should sustain natural systems, resources and ecosystems. was the guest of honour. Two minutes silence was observed to pay respect to our brave soldiers who laid their lives during the Indo- China clash.
Justice Adarsh Kumar introduced  the various concerns of society such as problems of hunger, shelter, potable drinking water  confronting the country and the whole world. The development is causing major destruction of the environment. The situation is further aggravated by the burning of crop residue, industrial waste and overuse of vehicles. The people are suffering from a number of diseases caused by bacteria and viruses. The respiratory problems are on the rise and affecting the younger generation. The Pandemics like COVID -19 have recently paralysed  all. In his view garbage disposal is not proper which is further affecting the environment. There are rules formulated by the Judiciary but there is no compliance and no enforcement of these regulations, which is responsible for worsening of the situation. We need to educate each and everyone that they should take a resolve to preserve the environment at all cost, to save humanity from the environmental hazards.
Earlier, Prof. Raj Kumar, Vice Chancellor, Panjab University Chandigarh welcomed esteemed guests and emphasized the need of such interactions in future also so that the concern for preserving the environment reaches each and every one and people come  forward to resolve  preservation of the environment .  
The programme started with a welcome by Prof. Renu Thakur Coordinator ICSVS  and conducted the proceedings of the event.  Dr. Vishal Sharma proposed the vote of thanks.