We should follow path shown by our great martyrs: DC Ludhiana
State-level function on occasion of birth anniversary of Shaheed Sukhdev held in district administrative complex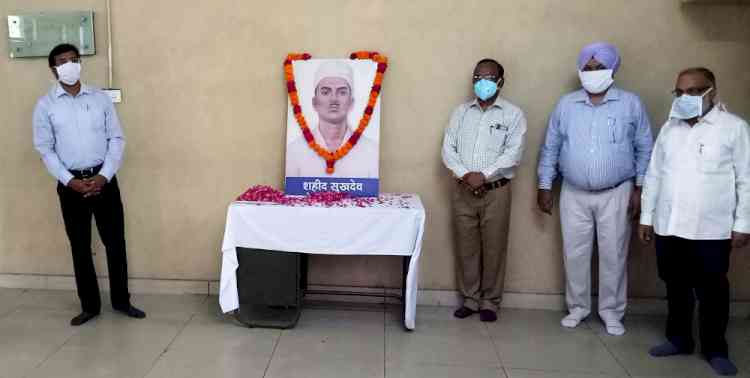 Ludhiana: Deputy Commissioner Mr Pradeep Kumar Agrawal today called upon the youth and students to come forward and eradicate social evils like corruption, drug abuse, female foeticide and illiteracy from society, which would be the "real tribute to the country's martyrs and fulfill their dreams".
    The state-level function on the birth anniversary of Shaheed Sukhdev was organised in District Administrative Complex, here today, in which Deputy Commissioner Mr Pradeep Kumar Agrawal was the chief guest.
    While addressing the officers and other staff of District Administrative Complex during the brief function, Mr Agrawal said that such functions are organised to promote national integration and instill patriotism among the people, especially our youth. He informed that Shaheed Sukhdev was a great martyr who laid down his life for the freedom of our country. He told the students that Shaheed Sukhdev was born in Mohalla Naughara located in the city.
    Earlier, the Deputy Commissioner, along with other dignitaries, paid floral tributes to the photograph of Shaheed Sukhdev.
    Prominent among those present on the occasion included ADC (General) Mr Iqbal Singh Sandhu, ADC (Jagraon) Mrs Neeru Katyal Gupta, ADC (Khanna) Mr Jaspal Singh, Assistant Commissioner (General) Mr VK Bansal, PCS (Under Training) Miss Parleen Kaur, DPRO Mr Prabhdeep Singh Nathowal, besides several others.