We are adopting technology for better policing: Commissioner of Police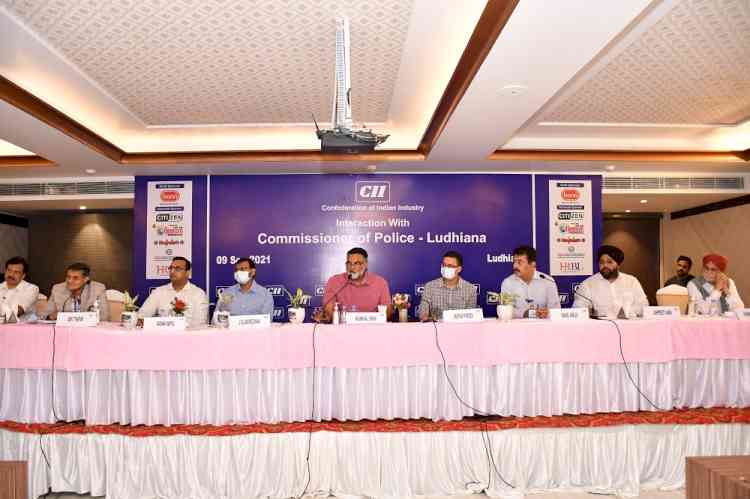 CII organized an Interaction with Ludhiana Police Commissionerate to discuss Law-and-Order issues within the city
Ludhiana, September 13, 2021: Confederation of Indian Industry (CII) organised an interaction with Mr Naunihal Singh, Commissioner of Polic,e Ludhiana, Punjab,. The discussion focussed on Law-and-Order issues in various industrial areas within the city.
 
Mr Naunihal Singh, Commissioner of Police, Ludhiana shared the initiatives taken by the department to curb violation by trucks parked on the roads, encroachment, drugs, snatching incidents etc. Mr Singh also shared how Police department is adopting technology for better policing and installing Personal Security Cameras at various prime locations of the city with the support of industry for proper vigil and making Ludhiana a Crime Free City.
 
Mr Naunihal Singh assured the members that Police is just one click away from every citizen. Any citizen can complain to the Police Department through email on Police Saanjh Portal and revert will be given to the complainant within 24 hrs along with FIR copy through his email itself. Moreover, FIR is done only after Preliminary investigation by Police department, except theft cases. He shared that Police is already in action to control drug addiction in Ludhiana and wants to have a committee incorporating all the professionals like Architects, CA, Lawyers and IT experts to make Ludhiana a crime-free city.
 
Mr Amit Thapar,  Vice Chairman, CII Punjab State and President, Ganga Acrowools Limited in his remarks stated that the objective of organizing the interaction is primarily to apprise the officials on the challenges pertaining to law & order faced by Industry and common citizens besides also explore areas where CII and Local Police authorities can work together.
 
Mr Ashpreet Sahni, Chairman - CII Ludhiana Zone and Proprietor – Sehaj Solutions, requested the Police department to engage not only industry, but also the society at large and make them partners in creating a new Ludhiana which will be much safer and smarter in true sense.
 
More than 90 industrialists, including 35 local industrial associations pertaining to Ludhiana presented their suggestions and ideas to Ludhiana Police Administration in this session.