Ways to Make India Jagadguru discussed at PU
Around 50 people attended the webinar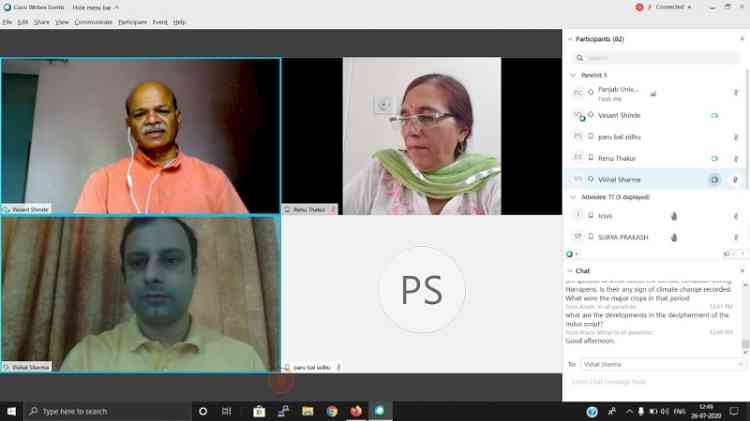 Chandigarh: Using the climate change crisis as an opportunity, India can rise to become world leader, said Sai Vaidyanathan, speaker at a webinar organised by Chandigarh Vigyan Parishad and the Panjab University Chandigarh chapter of Panchnad Research Institute today.
 
The topic of the meet was `Aise Banega Bharat Jagadguru' (Ways to make India Jagadguru).
 
Prof BK Kuthiala, Director, Panchnad Research Institute, and Dr KS Arya, National President, Panchnad Research Institute, attended the webinar.
 
The speaker, who is an author and a journalist, recounted many of India's strengths in the past and enlisted ways in which those could be used to deal with the global warming crisis in the future.
 
If due to climate change, development can no longer take place through the normal fuel/ electricity-consuming route, then at that time, the revival of Indian culture can give added impetus to the economy and generate jobs for the country's youth.
 
Vaidyanathan spoke on the need to redesign our cities in a changing environment and to enhance digital technology so that the need for using petrol/diesel transportation goes down.
 
To avert the upcoming global crisis, the speaker emphasised on changing the outlook of this outward-looking world which has become highly materialistic. In making the world look inward, India's yoga and meditation could prove to be of great help, he said.
 
Finally, the speaker exhorted the audience to  contribute their might in helping India regain the number one spot that she enjoyed just 300 years ago.
 
Around 50 people attended the webinar. Prof. S K Tomar, President of both the organizations (CVP and PRI Study Center, PU, Chandigarh) thanked the speaker and attendees.